Hello! There's a new collection of polishes on the market- Barry M Sunset. As many other nail polish enthusiasts, I was intrigued. And confused… Will it only cure in the daylight? What if I do my nails at night? What if it's cloudy (like every day in England) If it cures, how will I be able to remove it? etc.
To my luck there was a 3 for 2 offer at Superdrug and I managed to grab three of the Sunset range polishes for about £10 (usual price £4.99). And I got a free make up bag too! ;)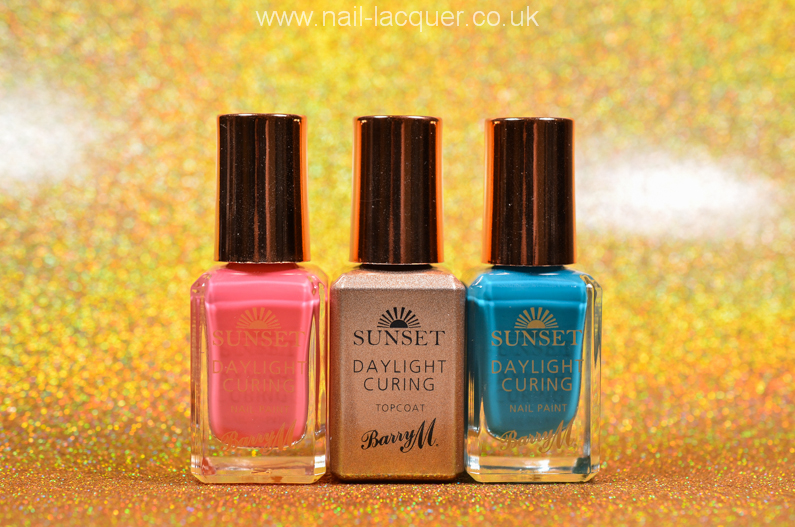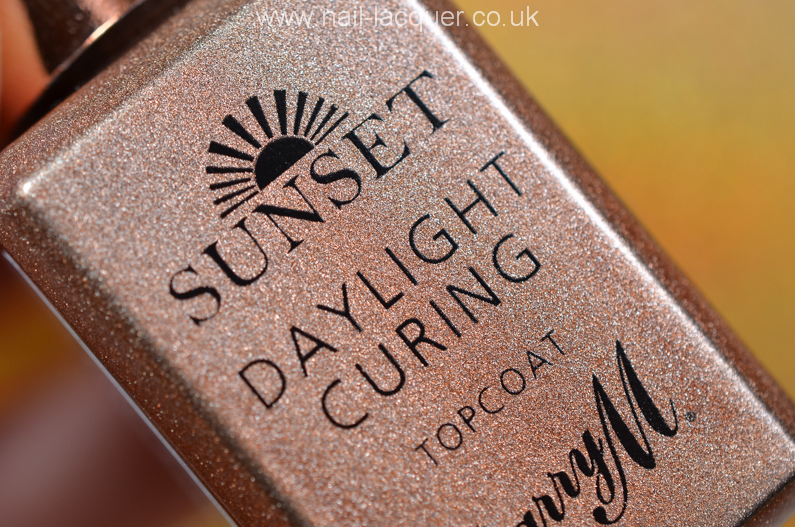 The polishes come with strict directions. First you need to polish two layers of the Sunset nail paint and then apply Sunset top coat (there is also a warning that no other top coat will work). And then your nails will cure naturally in daylight which ensures a long lasting pro manicure effect. But if you don't have any daylight handy your room's artificial light will do the job as well (info from the fb page). So basically it doesn't matter what light you have around you.
I was very curious about the deal with the sunlight curing. I experimented in a completely dark bathroom and painted my nails as directed and sat there for about 10 minutes. I left the bathroom with perfectly dry (but messy!!!) nails. Firstly, I would like to mention that it is a lot harder to paint your nails in a completely dark bathroom. Secondly, it is rather boring to sit in a completely dark bathroom for 10 minutes. But I did it and to my experience, there was no difference in me sitting in a dark bathroom or at my table with daylight and artificial lights around me. So, YES, Barry M Sunset nail polish will work in dark and at night.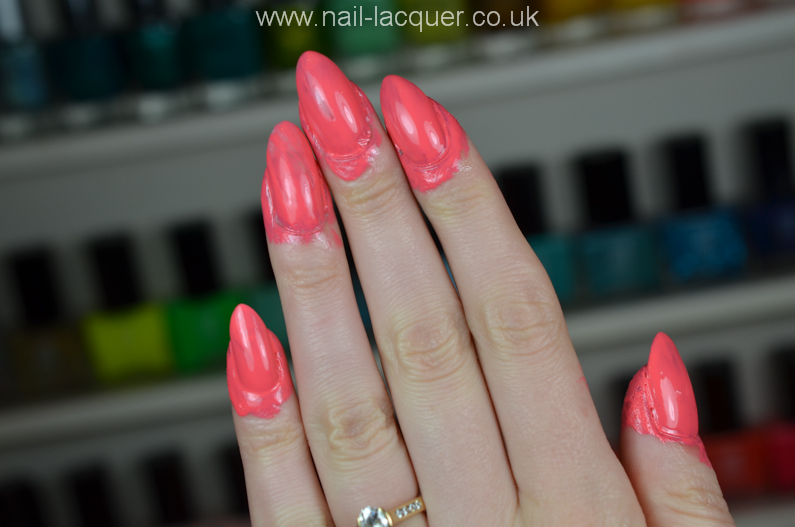 As of the polishes I was pleased seeing nice flat brushes which made the application an excellent experience. One of the brushes didn't have perfect bristles however :(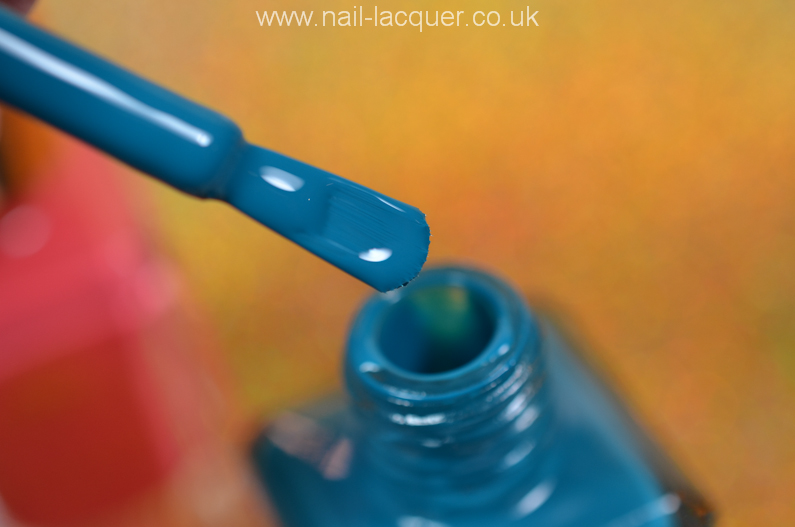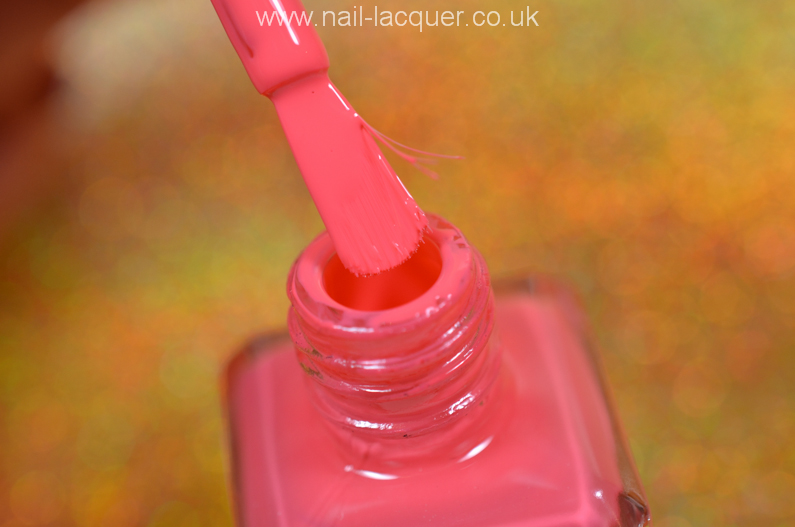 Barry M Sunset For The Stars
For The Stars is a coral pink polish with creme finish. On the swatches I am wearing a base coat, two coats of polish and Sunset Topcoat. Overall great formula and beautiful colour. I would give it a 10 but a 9 have to do because the brush wasn't perfect.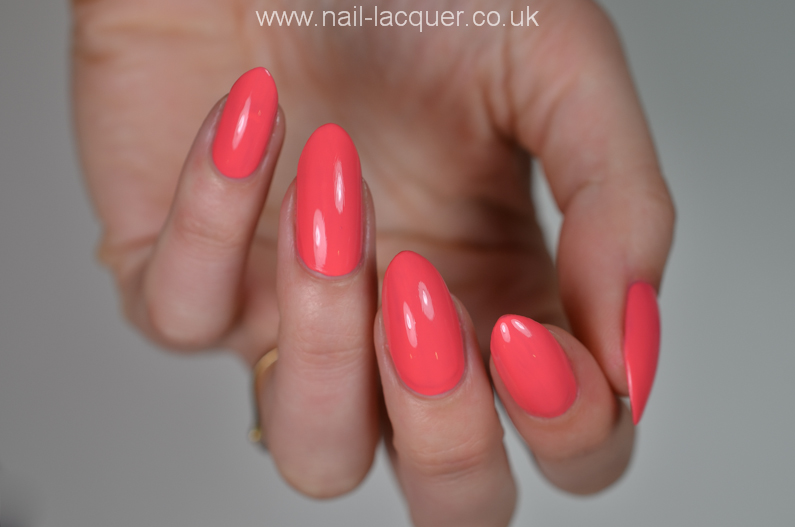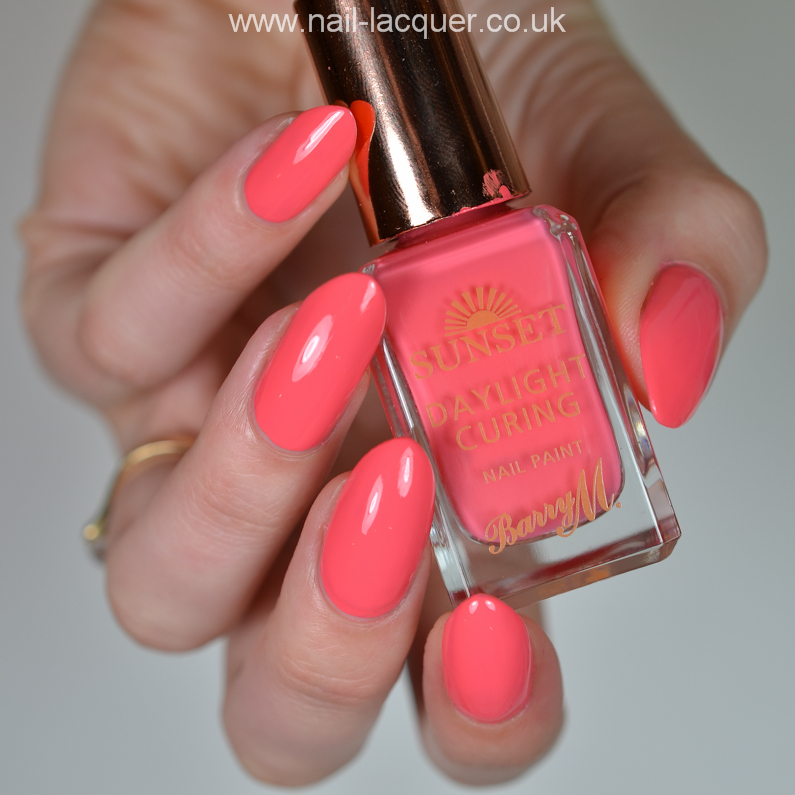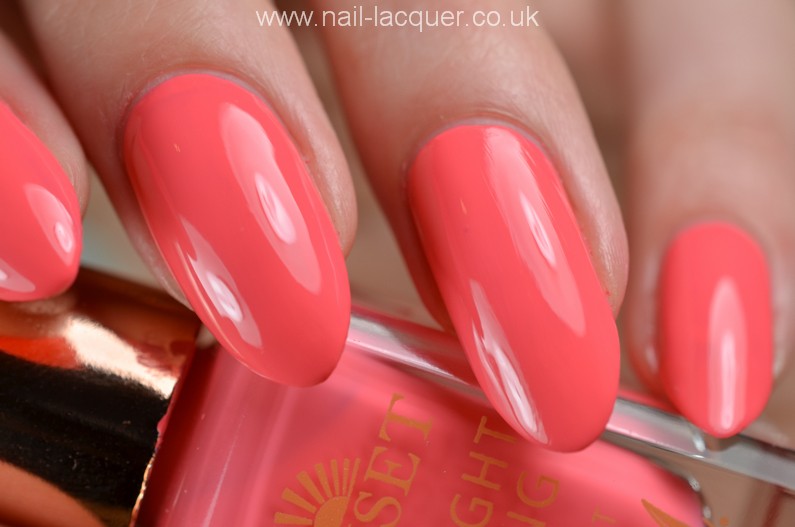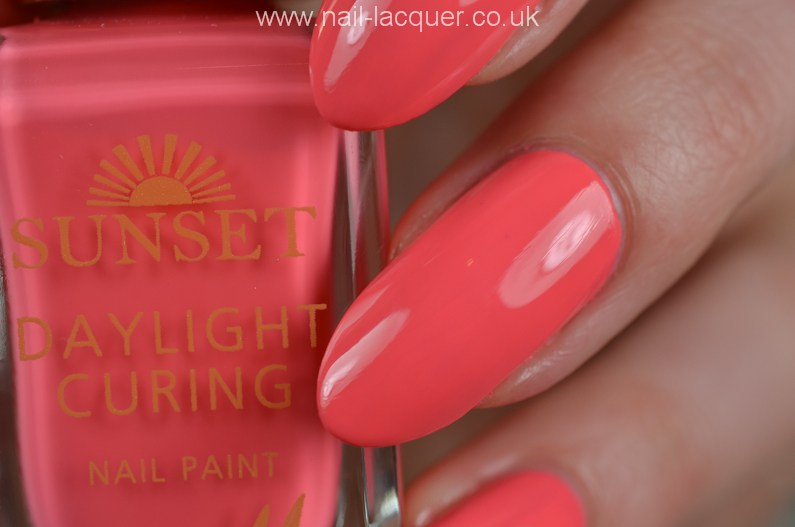 Barry M Sunset Make Me Teal
Make Me Teal is a blue polish with teal undertones and creme finish. On the swatches I am wearing a base coat, two coats of polish and Sunset Topcoat. Again, lovely opaque formula and flawless application. A bit hard to capture tho. I'm giving it a ten, such a pretty polish and good formula, brush etc.
The below photo is the most accurate colour imo. But it depends on the screen you are using.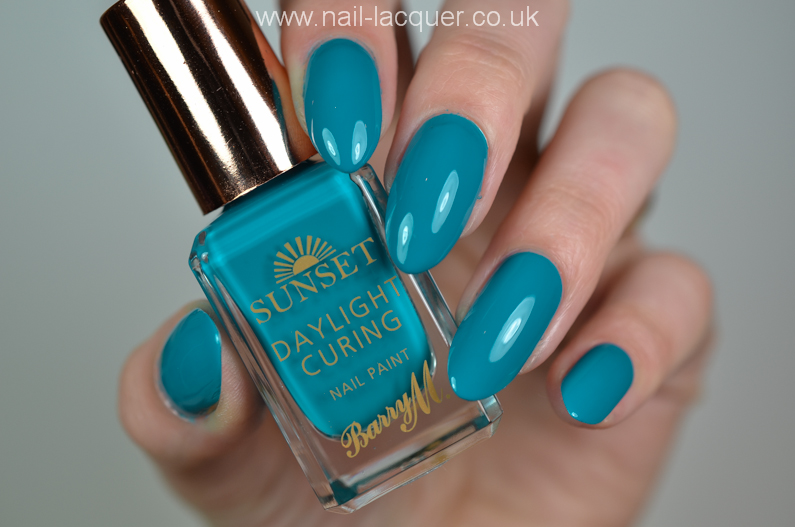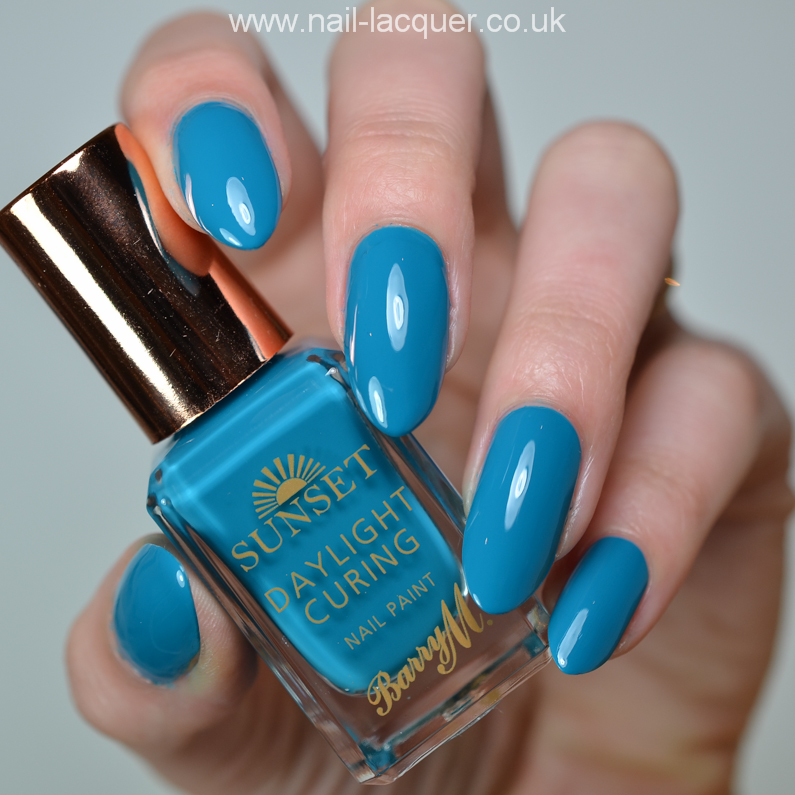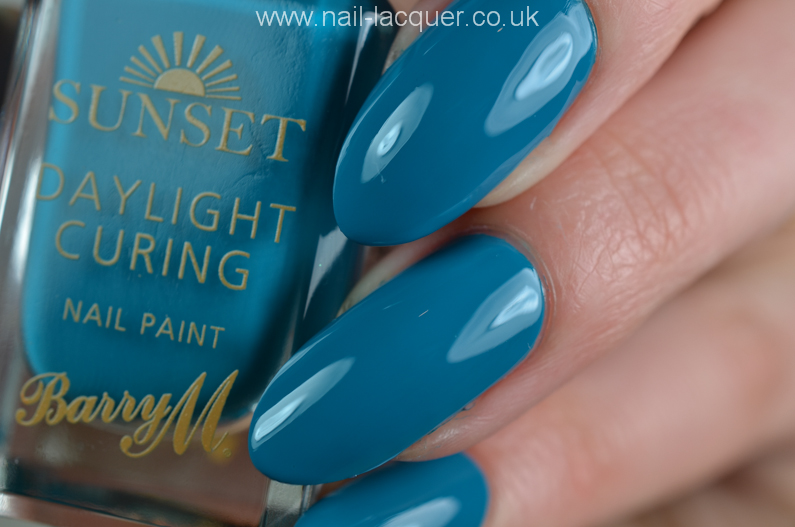 Overall both of the polishes were great to apply. The Sunset Topcoat would also get a rating of 10, well maybe not quite 10 because apparently you can only use it with other Sunset polishes (this is actually like a huge minus!). It did work with a non Sunset polish actually (but would the longevity be affected?). It's super glossy, one of the glossiest top coat finishes I've seen in a while and also fast drying.
But the daylight curing mumbo jumbo?… I personally think this collection could have done without it, especially if it doesn't even actually work. It's stupid. Almost ruined the whole collection for me as it made me sceptical. These polishes and the top coat are excellent, why to advertise it with some no uv bla bla curing bla bla sunlight? In my opinion it only confuses people. What do you think?
Thanks for reading xxx
P.S. It comes off easy with normal nail polish remover, just like normal nail polish.