Hello and welcome to my OPI swatch marathon Part 1. This is a little idea that I got from my last post where I showed you one of my old OPI polishes. I decided that it would be interesting to swatch all of my OPI polishes. I have well over 200, so there will be a lot of blog posts (however, fair few have been already swatched).
OPI Swatch Marathon
Firstly, many of my OPI polishes are from different collections. I decided to swatch them by the year they were released. I will start with the oldest polishes and move on to the newest.
Secondly, I will try to keep the posts reasonable (length wise). I will show up to six polishes per post which I think would be acceptable considering the amount of photos I like to take per polish.
Without further ado, here is my oldest OPI nail polish:
OPI Malaysian Mist
Malaysian Mist goes back to 1993. It was released as part of OPI's Spring/Summer collection called The Paradise Collection. The original collection consisted of 12 polishes, all of which were nude, pink or red toned (source). Very early 90's if you ask me.
On the swatches I am wearing three coats of polish with no top coat. The polish applied very well regardless of being older than many of my readers!
OPI Dusk Over Cairo
Dusk Over Cairo is a polish that goes back to 1994. It was released as part of OPI's Spring/Summer release and it was called the Mediterranean Collection. This collection came in 9 colours and it also had three matching lipstick colours (source here). Now I am wondering if OPI has matched lipsticks since then?
Dusk Over Cairo is a sheer brown pearl polish. The formula of this one has not aged well and it was not a pleasure to apply, but here is it as it's best.
Both of these polishes are the only OPI polishes I have from the 1990's. I am gutted that I don't have any OPI polishes that go back to the decade the company was initially founded (1980's). Regardless, these two have been quite interesting to swatch, especially as the formulas are still ok-ish.
Whereas I wouldn't care much about wearing Dusk Over Cairo, I do feel that it would be brilliant to have Malaysian Mist in OPI's Classic's Collection. It is such a wearable and timeless nude colour.
What is OPI Classics Collection?
My understanding is that OPI Classics Collection is a selection of polishes that were released as part of a collection at one point, but continue being sold as 'permanent' colours rather than 'limited' editions. I will do a separate post of all my OPI Classics Collection polishes as part of the series and will mention if any of the originals I have are being produced as part of the permanent range. I am quite pleased that a number of 'black label' OPI's are produced as part the Classics Collections.
What is a black label OPI?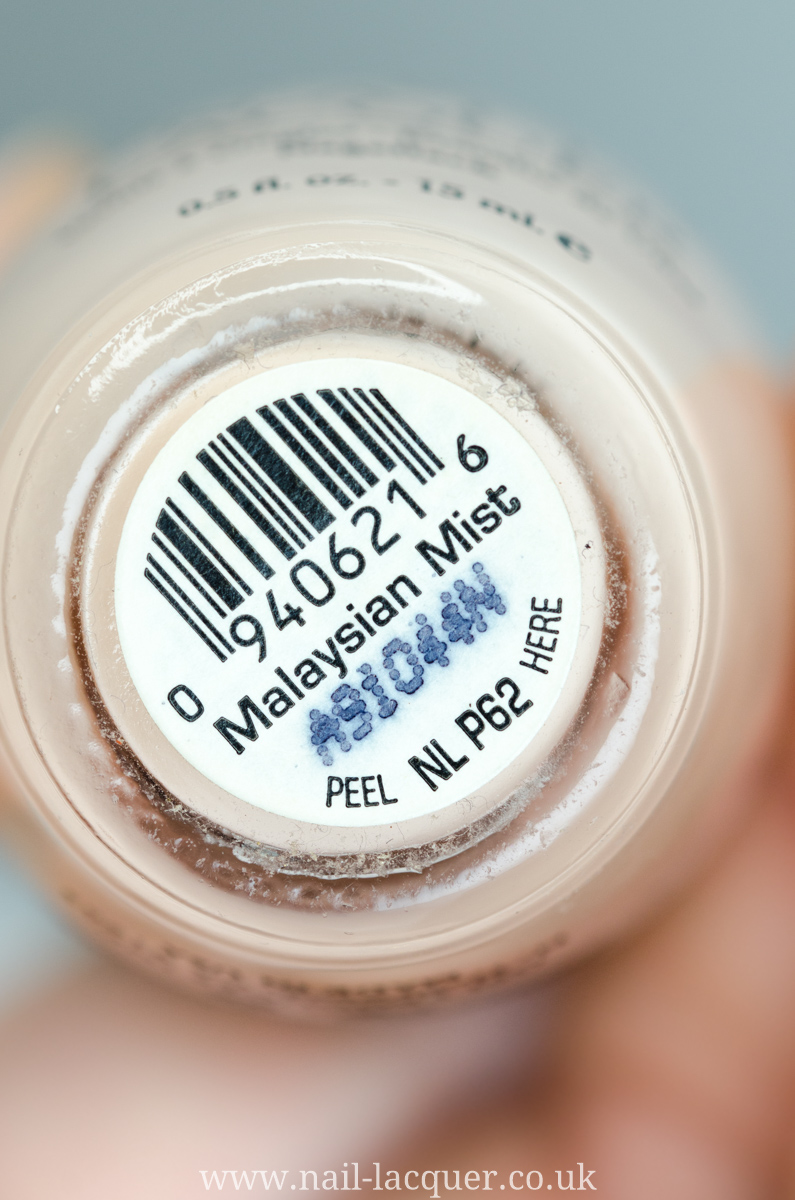 A black label OPI is a nail polish that was released before mid 2006. It is called 'black label' because the sticker under the bottom of the bottle has a bar-code and name written in black ink. In 2006, it was changed to green ink. Furthermore, OPI changed their formula and since 2006 the polishes no longer contained formaldehyde, toluene, and dibutyl phthalate (DBP).
However, in 2015, OPI changed the bottom labels back to black. As far as I am aware, there was no formula change then… but I think the OPI Infinite Shine came out that same year? Infinite Shine range also has black label bar-codes and polish names.
That's all from me today! I hope you have enjoyed this little walk down the OPI history lane and will be back to see my early 2000's polishes soon!