olour Alike Color Travel Collection is another set I purchased few months ago but never got around to swatch and review. It is because it's my last year of university and things have been hectic as I have so many assignments to write plus a placement to attend, but also because one of my family members fell ill a few months ago and things just haven't been great. However, my dissertation was handed in last week and suddenly I have found myself with a weekend full of free time and as a result, many blog posts have been written :)
Colour Alike Color Travel Collection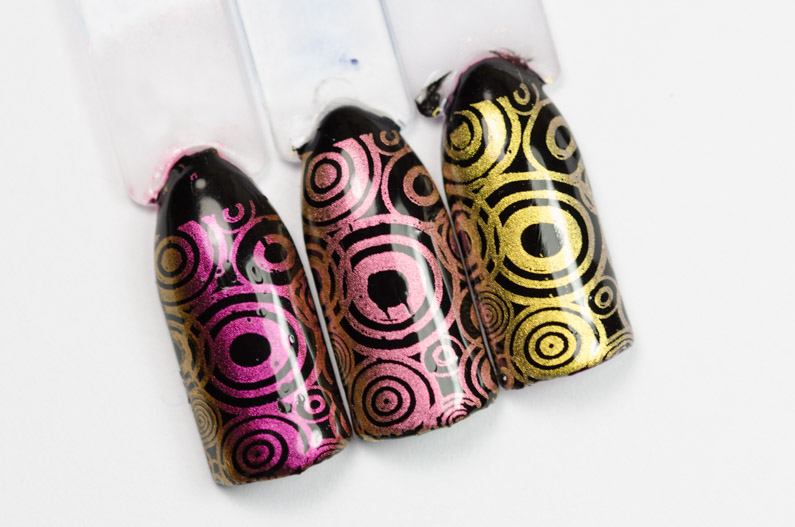 Colour Alike Color Travel Collection consists of three colour shifting stamping polishes inspired by galaxy.
Venus (left) is a metallic pink stamping polish with fuchsia to gold colour shift. Venus has the most vibrant duo chrome of the three.
Mars (middle) is a metallic peach stamping polish with pink to gold colour shift.
Supernova (right) is a metallic golden stamping polish with a subtle gold to pink colour shift. It is the least duo chrome from the three.
Below you can see the shift of the colours. Venus being the best in changing colour and Supernova the worst, with barely any change.
When I first got the polishes I found Supernova quite similar to Golden Queen (swatch here). On the image below you can see them side by side, Golden Queen on the left and Supernova on the right. Not dupes at all but both golden in colour with metallic finish, although, a different shade of gold. Therefore owning both has been justified lol.
Looking at the swatch I think I like Supernova more, but so far I have been using Golden Queen a lot more. From the three, however, Venus is my top favourite as the colour shift is so vibrant but I also love Mars because of it's subtle peachy colour. Anyhow, I think I just love all three equally :)
I purchased the collection from Colour Alike website here. These polishes cost a bit more than the usual stamping polishes, each being Eur 6.50 for a 8ml bottle.
Thanks for checking out my Colour Alike Color Travel Collection review and swatches. The latest collection of stamping polishes called Spring Break, is on the way to me right now and I will blog about it soon :) Until then, you can check out my other Colour Alike reviews and swatches here.