Hello and happy weekend!!! Today I have Essence Effect Gel Top Coat 04 Glitterland swatches and review prepared for you. Wilkinson shops are now selling a well known budget cosmetic brand Essence. I was excited to try some polishes out as they not only have low prices (nail polishes start from £1.60 per bottle) but their are also introducing easy to use home gel manicures which is something I am sure a lot of ladies are interested in.
The gel base/top coat prices start from £3.00 and are advertised to be used with normal nail polish. I decided to try one of the Essence Effect Gel Top Coat's which was priced £3.50 (7ml bottle). There were five glitter combinations to choose from and I picked 04 Glitterland which is full of small metallic pink, green, blue and silver glitter in a clear base.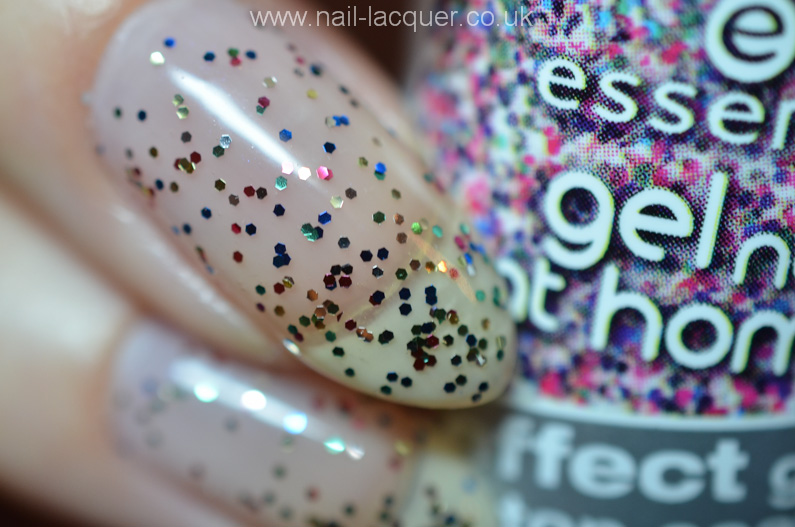 On the swatches I am wearing two coats of Glitterland on top of clear gel base coat. The application was easy and the glitter spread good. I used LED lamp to cure it and cured for 30 seconds (I later red from the directions that it was meant to be cured for only 10 but never mind). I cannot comment on the longevity as of yet because I only applied it last night (but I will update the post soon- will be wearing this on my left hand this week).
Overall I would say that the gel top coat seems to be good but I am finding the colours a little bit boring. It is a great bargain however and very easy to use at home which is great. I am excited to try it out on top of normal Essence nail polish. I am feeling slightly sceptical just because I know that nail polish has to be COMPLETELY dry before you can apply gel polish on it and this means that the manicure process would be stretched very long (especially considering that with the small Essence LED lamp one can do only 1 finger at a time but I will be using my bigger lamp anyway).
P.S. Essence cosmetics are 3 for 2 (in store and online) at the moment ;) ;) I will post some nail polish reviews soon too! xoxox
UPDATE! Hi, it's been 10 days since I applied the Essence Effect Gel Top Coat and it's been holding really well! I even applied normal nail polish on it the other day and after taking it off (with non acetone remover) the polish still looks with no cracks and barely any tip wear. My nails do look a bit neglected after not filing them for so long so I apologize about that.
Thanks for reading xoxox