Good morning and happy Saturday! I made some Galaxy nail art to celebrate my new polish called Galaxy.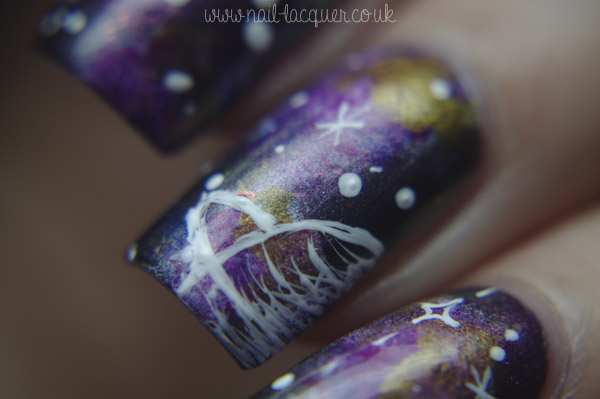 Unfortunately I went a bit overboard with the Galaxy effect and it almost hides my fab polish but here are some better swathes without nail art.
It's hard to describe this polish, it's pretty much a dark purple with slight green undertones and some subtle orange flakes. Pretty cool, right!? I am wearing three coats with Poshe top coat on the swatches. I named it Galaxy because it looks like a tiny galaxy in the bottle.
You can find this polish in my Etsy shop, there's also a wee sale going on to celebrate me being back in business. I have also taken advice from the fans and all the new polishes, such as this one, will be available in bigger quantities.
For the nail art I used white acrylic paint and four different polishes- Essie Aruba Blue, Essie Tour The Finance, OPI Diva of Geveva and Color Club Pearl District . I love how the flakes shine trough the nail art, it is very subtle, one can only see it very close.
I love my Galaxy nail art but I received the last bits of Christmas presents today- 3 Color Club Holos and 2 Zoyas (my first!) and I just have to try them all ASAP!
Thanks for reading and have a lovely weekend!