Hello! Earlier this week I showed you my first Kleancolor nail polish (see the blog post here). I really fell for the beautiful due-chrome effect and was desperately seeking other Kleancolour polishes with similar effect. Not too long later, I came across Kleancolor Chunky Holo Bluebell.
Kleancolor Chunky Holo Bluebell review
As per usual, I found this little beauty from eBay (I would link the seller, but it was a one-off sale). I think I paid a total of £9 posted for a bundle of two (the other one was called Chunky Holo Fuchsia). I personally think it's an OK price. However, it does look like the Kleancolor polishes average about $1 each in USA. Therefore if you live overseas, you could score a good bargain for yourself.
Similarly to Chunky Holo Black, the name of this polish is very misleading. There is no holo in this polish, but it is full of gorgeous due-chrome glitter. The glitter is on the smaller side (but not quite micro) and all particles are same size.
The polish also has a gorgeous lilac base (at least in the bottle). Truthfully, the lilac jelly base is not visible on the nail and unless you like the clear look, I would use a base colour with this one.
Furthermore, the polish does smell. Quite bad in my opinion, but it is avoidable. I managed to avoid the smell by applying the polish using a make up sponge. This is really the best way to apply these polishes, but glitter polishes overall.
Kleancolor Chunky Holo Bluebell swatches
On the swatches below I am using a purple polish as a base (no name – a creation of my own for personal use) and two coats of Kleancolor Chunky Holo Bluebell applied with a sponge. I am also wearing two coats of Poshe fast dry top coat (this is as I was going to wear the manicure for the weekend).
Overall, the glitter and due-chrome effect really did it for me. However, this is certainly not the best polish formula/ease of application/smell wise. But, the colours in the glitter are just stunning! <3
Moreover, I got a very cool surprise when I jumped in the bath while wearing this polish. It is known that duo-chrome polishes perform even better while underwater. I can't say that I have noticed a significant difference with other polishes, but this one went full rainbow under water! It was a bit of a challenge to capture the beauty, but here's a close up I managed to take :)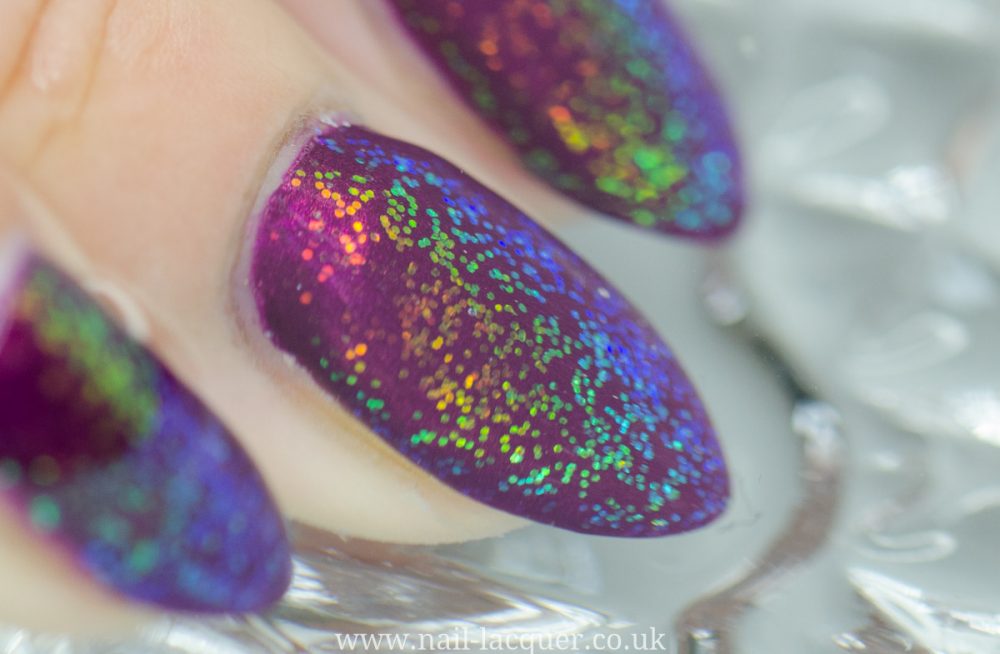 Thanks for reading!
Nail Lacquer UK rating: