Hello and happy weekend! I have been obsessing over my small, but growing, vintage nail polish collection over the past few weeks. I have been admiring them, swatching them and trying to establish the ages of them! Earlier this week I swatched and wore a very unique vintage polish called L'oreal Paris Holographic Shine 807.
L'oreal Paris Holographic Shine 807 review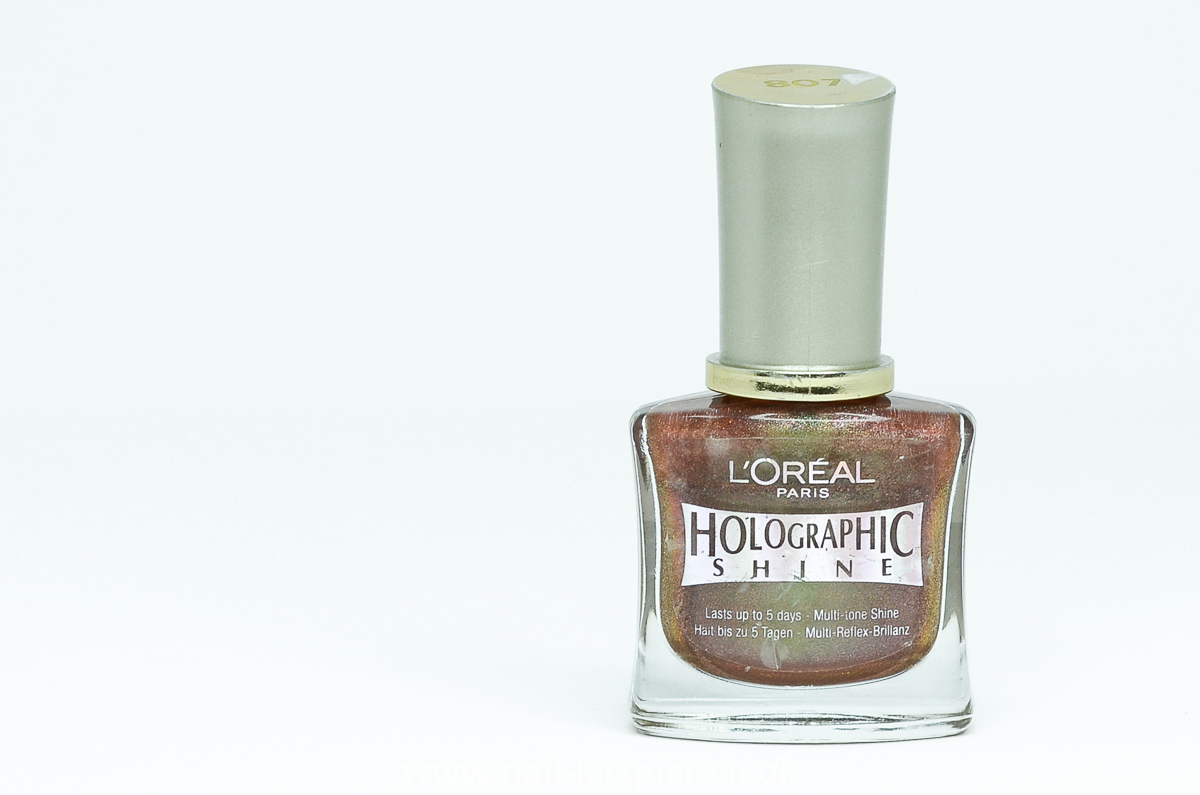 L'oreal Paris Holographic Shine 807 is a brown due chrome polish. The colour shifts from green to purple. It also has these little shiny/sparkly duo chrome flecks in the finish, those flecks have a slightly different colour variation compared to the main duo chrome shift.
Oddly, regardless of the name of the polish, there is no holographic pigment within this polish. You and I both know that nail polish companies call polishes 'holographic' pretty randomly. I'm not too bothered that they called a duo chrome polish, created almost fifteen years ago, that. However, it certainly would not pass as a as holographic polish today.
On the polish there is a description which states: 'Vibrant shine and multi-tone colour thanks to the Holographik Technology'. Firstly, I did not miss-spell that, on the back label it is described as 'Holographik' Technology. Whatever this means, or meant back then lol. On the front of the bottle, the spelling appears to be correct stating 'Holographic Shine'.
Interestingly, I have three multi chrome polishes form the 'Holographic Shine' series and two of them have the incorrect spelling! Furthermore, as 'colour' spells in UK spelling, it makes me believe that this polish was directed for EU/UK market. Anyhow, as of the colour, this polish is a beauty, just look at that subtle and unique colour shift.
L'oreal Paris Holographic Shine 809, L'oreal Paris Holographic Shine 807, L'oreal Paris Holographic Shine 803.
As of other qualities of the polish, it took about three coats to be opaque. It dried on the slow side, even with a top coat and it chipped within a couple of days. Overall, not a polish I would choose for it's smooth application and longevity.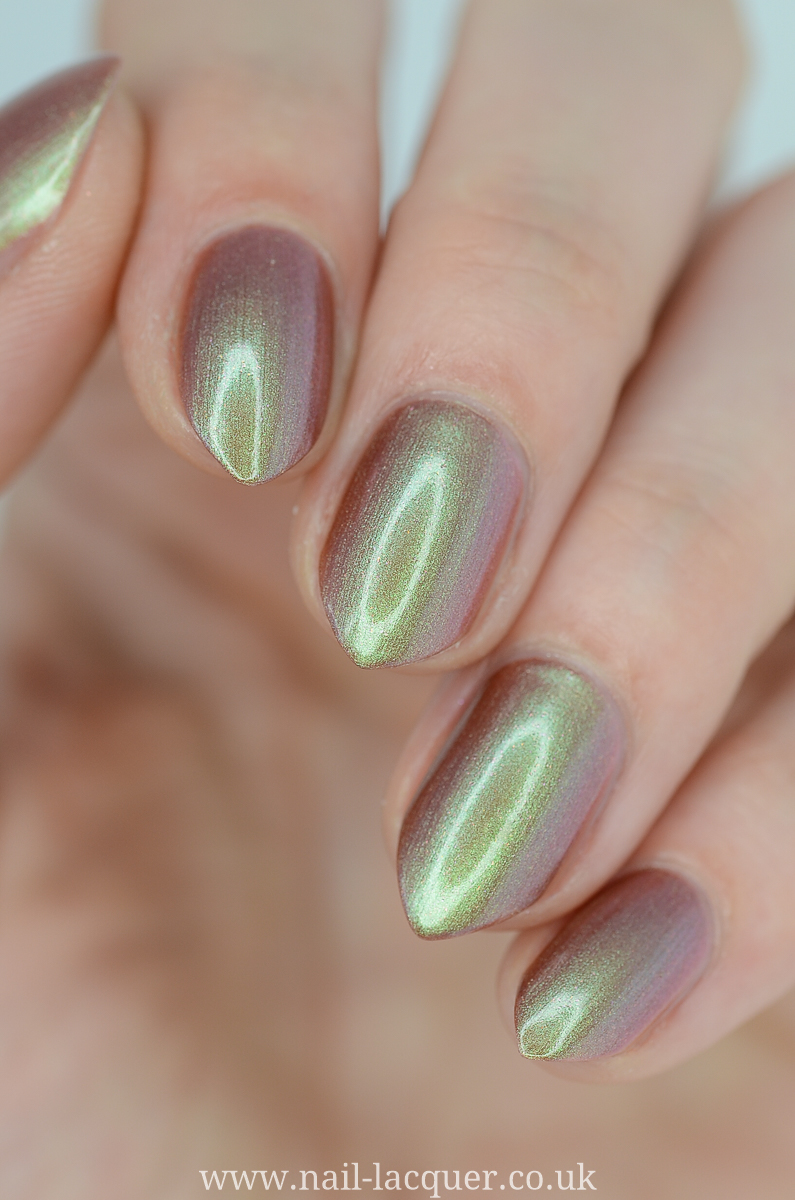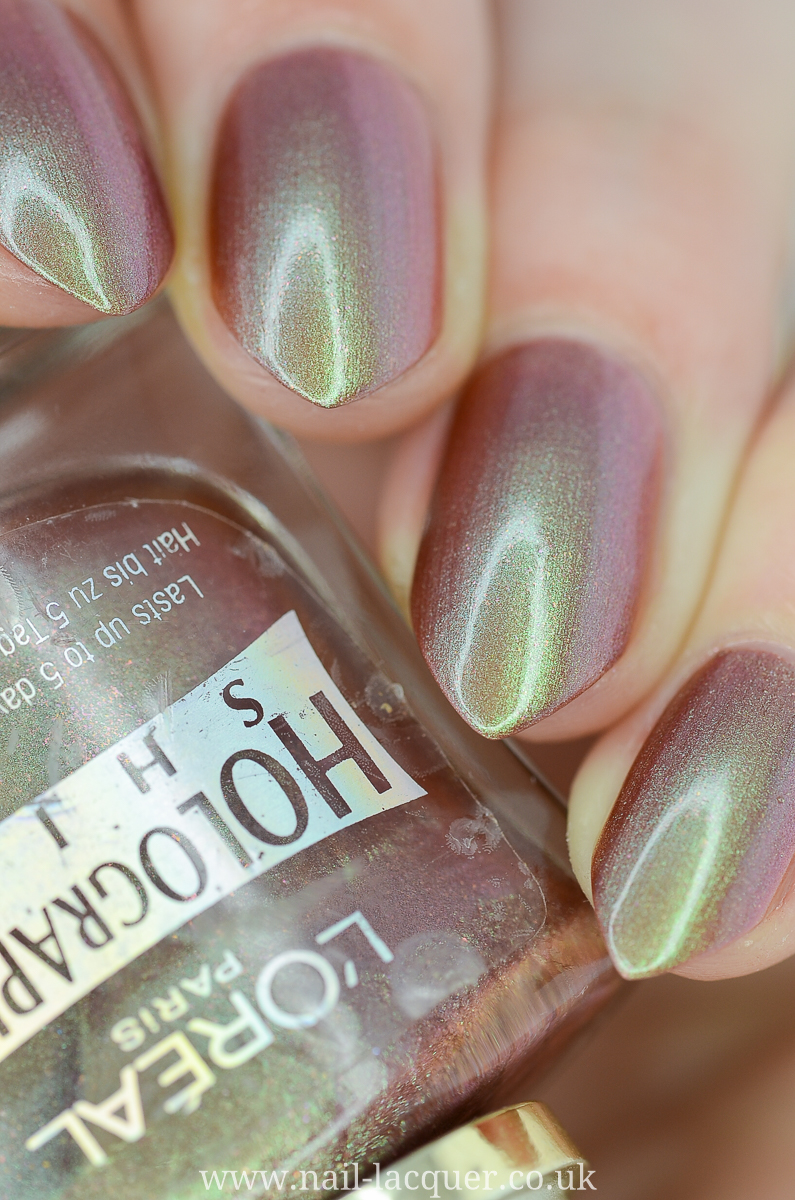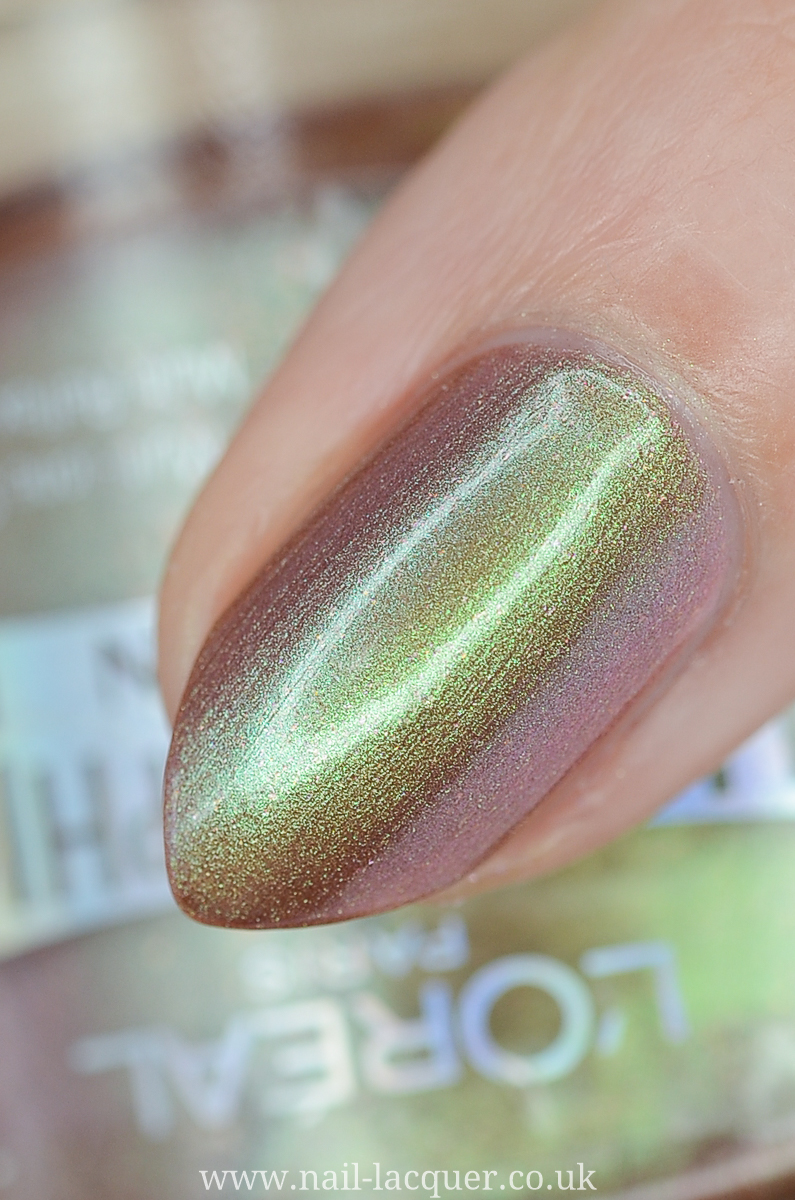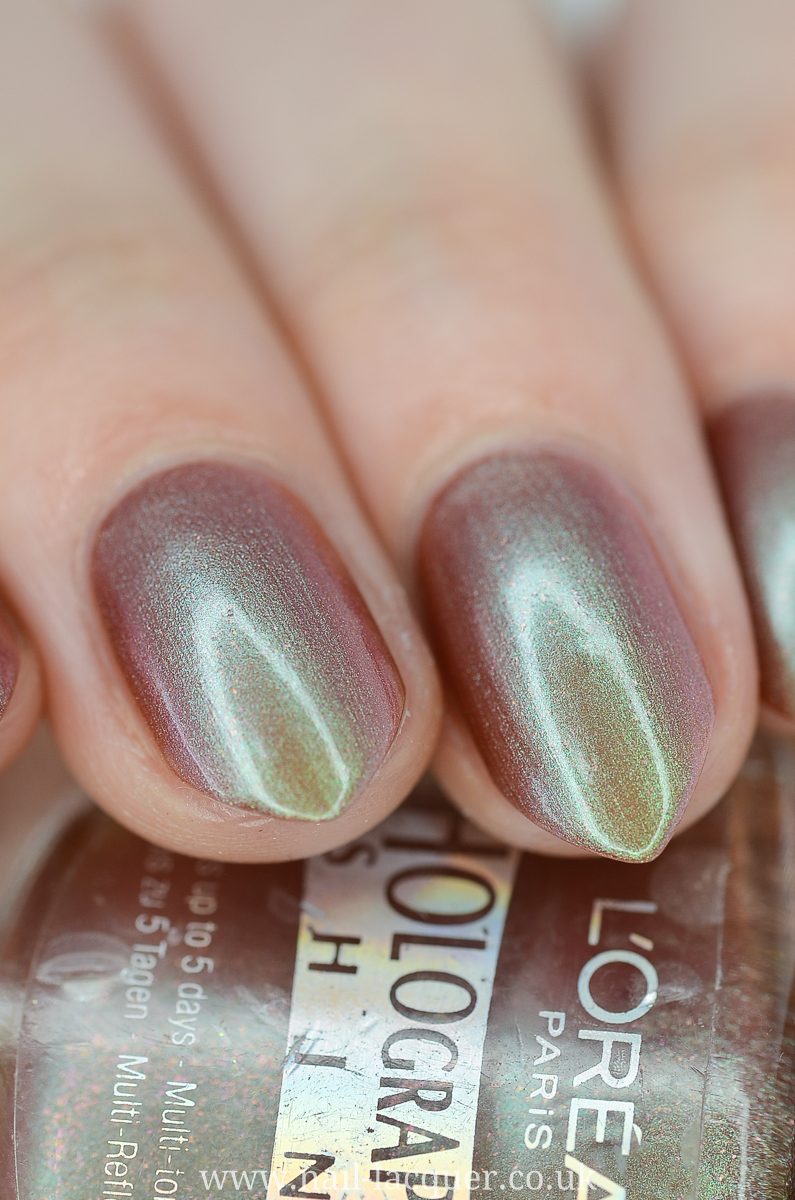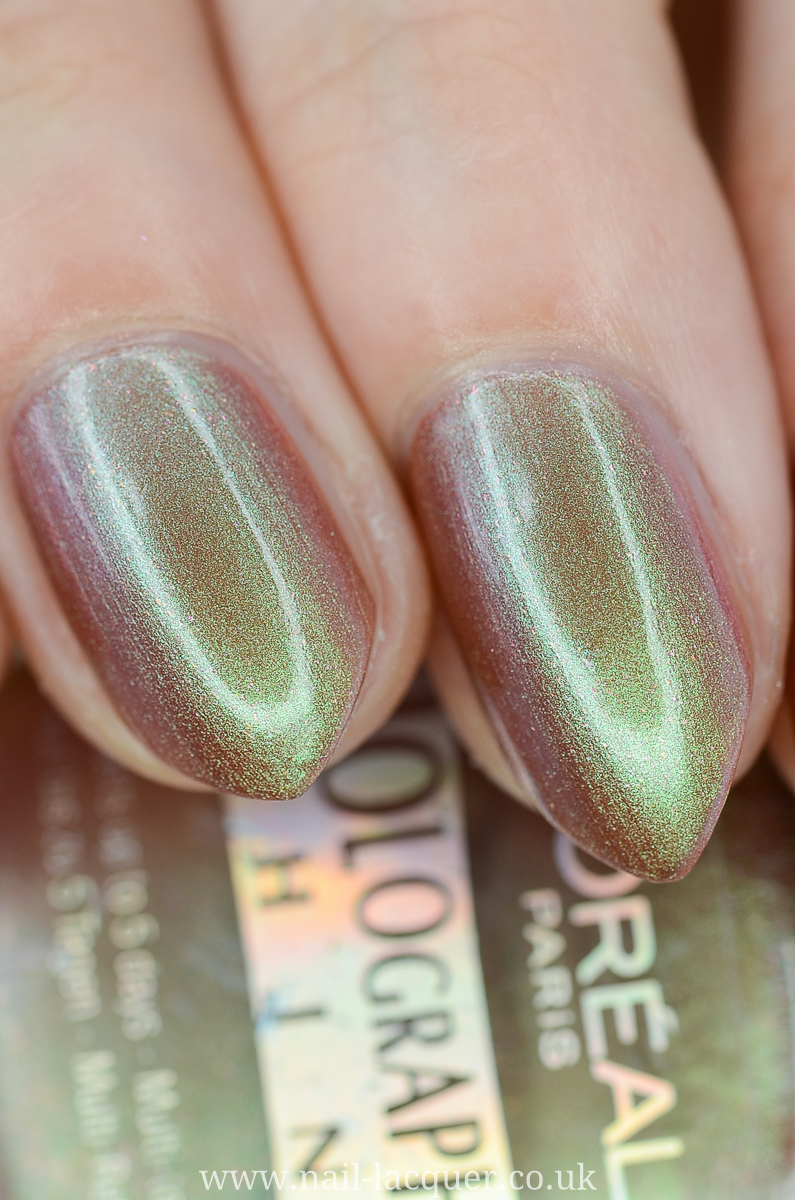 L'oreal Paris Holographic Shine 807 background
When I was searching for swatches of this polish, I received very limited results. I only found one blog post which had swatches and mention of this polish. You can find the blog post here, the author is Heather from Polish, Plants & More….
When I found Heather's blog post, I noticed that it was created six years ago, in 2013, and even then she described the polish as vintage. On further inspection via website CheckFresh I have identified that the Production date was 2003/04/23. You can search it yourself by choosing L'Oreal and entering batch code TY113. Obviously you should take this information with a grain of salt, but who knows!? Not sure how you feel, but I can definitely see this colour being released in the early 00's. That's when most polishes came in some sort of shimmer form (not always for their own benefit) :D
Anyhow, if you're a big fan of vintage polishes, check out my other little beauties here.
Thanks for reading xxx