Hello and happy Sunday! The weekend is flying by per usual, I have not had the chance to do half the things I planned lol. I actually have naked nails at the moment but I did wear Nails Inc. Elizabeh Street just few days ago. In addition to Nails Inc. Elizabeh Street I am showing you some Calla Lily nail art.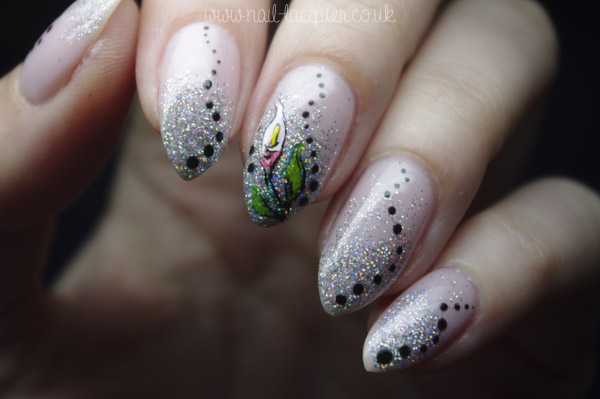 Nails Inc. Elizabeh Street is a sheer nude cream polish. It would need about two or three coats to achieve full opacity. I have only the mini size bottle so the application wasn't the easiest but I managed quite well. This polish is perfect for the days when you want your nails to look delicate and natural (so not very often for me :P).
I do like an occasional plain look but not for too long. I obviously had to add some sparkle. I decided to gradient my tips with silver holographic glitter from the Frontcover Cosmetics nail art collection box I reviewed back in December.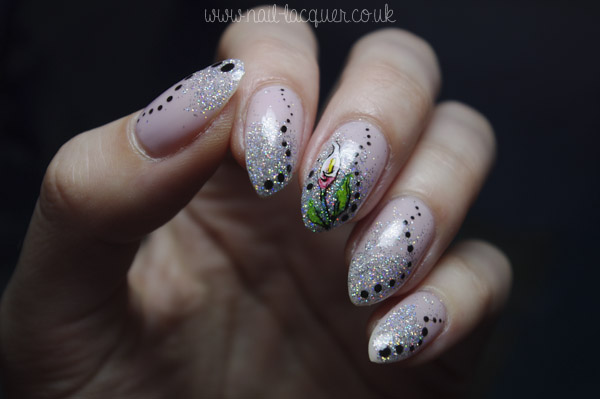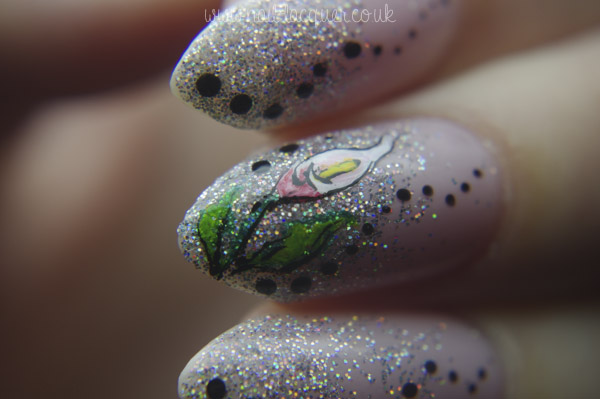 In addition to the glitter I added a hand painted Calla Lily on each of my middle finger. I also added some dots on each of my finger. I actually ended up not liking this design so I didn't wear it for too long but I still decided to blog about it :P
Thanks for reading, I hope you enjoyed my Calla Lily nail art and Nails Inc. Elizabeh Street swatches! xoxox