Hello and welcome to my OPI swatch marathon Part 5. You are probably well aware of my plan to swatch all of my OPI polishes. Today we are going back in time a little bit. This is because I have acquired some older polishes from a Facebook Marketplace sale bundle and I want to show these before moving on.
As mentioned, I came across an awesome bundle of old OPI polishes on Facebook Marketplace. This is another place I keep my eye on for vintage polish finds. To be fair, I would say overall I have only bought polish via marketplace twice now, so eBay remains one of the best places for more frequent polish finds, but marketplace is a good place for an occasional gem here and there.
Anyhow, this bundle had some good finds. Firstly, there was a couple of polishes from OPI's Holiday on Broadway collection. I already showed the two beauties from this collection in my OPI Swatch Marathon Part 3. Now I can also show you Rent and Thoroughly Modern Millie.
Firstly, however, I will mention the biggest disappointment about the bundle. Another polish from the above collection was within the bundle, Moving Out. But, on further inspection, and after consulting my fellow vintage nail polish fans (via this awesome Facebook group), I identified that the Moving Out I found was indeed mixed with another polish. I was rather disappointed, but all in all, the franken polish is very pretty.
What is a franken polish?
It is when someone (often nail salons do it/used to do it) when someone mixes a combination of different polishes together to create a new colour.
Moving Out frankened with Grape Wall of China
Another photo with a flash to show the pretty unicorn pigment sparkle!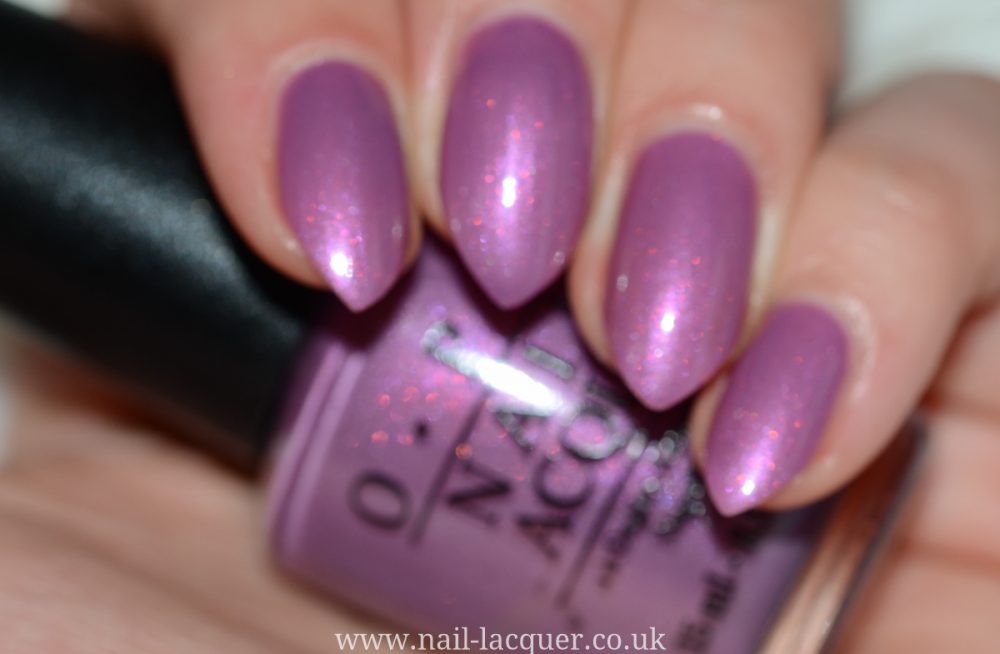 Rent
Rent is a sheer shimmer polish full of some sparkling silver glitter and shifting base varying from lilac to green. In the bottle the polish looks pink, but it is too sheer for any of the base tint to transfer on the nail (unless you use 5= coats!).
Thoroughly Modern Millie
Thoroughly Modern Millie is a sheer shimmer polish full of some sparkling silver glitter and shifting base varying from lilac to green… It is basically a dupe of Rent. Unless we have had someone frankening these two haha. But on a serious note, I am quite shure these two were just twinsies for whatever reason.
On the swatches I am wearing two coats of Thoroughly Modern Millie on top of OPI Never Can Have too Many Friends (a plain black creme).
I had to really double-check what I was doing to make sure that I will save the swatches under the right name. Overall, Rent seems to have a slightly colder toned pink base compared to Millie.
I recorded a half and half finger swatch to compare the two. Rent is on my left/the higher side of the nail and Millie is on my right/lower side of the nail. What do you think?
If you want to see the other polishes I own from the Holiday on Broadway collection, check out the Part 3 of my OPI swatch marathon here.