Hello and happy Wednesday! I know it's still a month too early but I have already started thinking about Valentine's day nail art. I thought I start off early, as with Halloween, I left all my themed nail art on the last minute and didn't have the opportunity to full fill all my ideas :P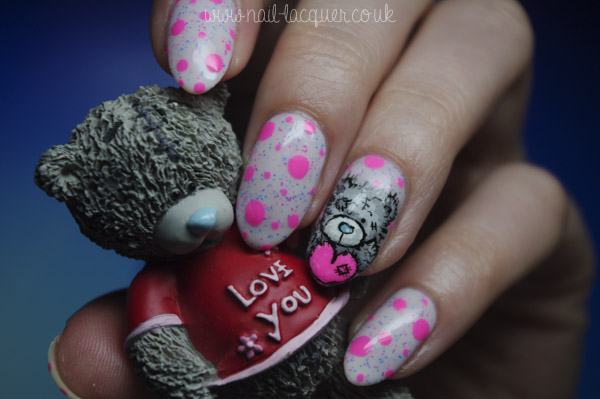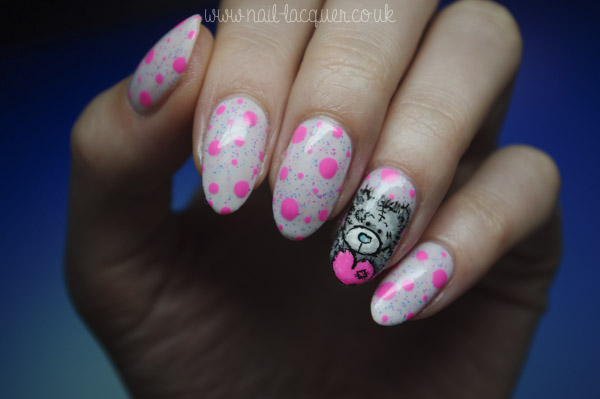 For this Valentine's day nail art I was inspired by Me to You bear Tatty. This is not Tatty's first time to appear on my nails, I also featured him in one of my Christmas nail art challenges. As a base I am using my own handmade polish called Firefly. I used China Glaze Shocking Pink for the different size dots, this pink truly is shockingly bright- can't wait to wear it as a full mani!
For Tatty I used mostly acrylic paints. I mixed white and black for different shades of grey and used a small brush and black for the hair. For the nose I used Color Club Evolution. I sealed it all with one coat of Gelous and one coat of Poshe.
I made a silly mistake when doing my right hand, I used different black acrylic colour and didn't notice the grey being a tone different than on my left hand until I was done with the detailed nail art :P
I usually paint my left hand first, then take photos and think if I want to keep it and then do my other hand. I rarely do both hands at the same time, I am weird like that :P
Thanks for checking out my Valentine's day nail art, hope you liked it! xoxox