Hello again, one just couldn't leave nails alone after doing a simple French tip and somehow a bunch of colourful Viola flowers nail art appeared on top of my French tips :P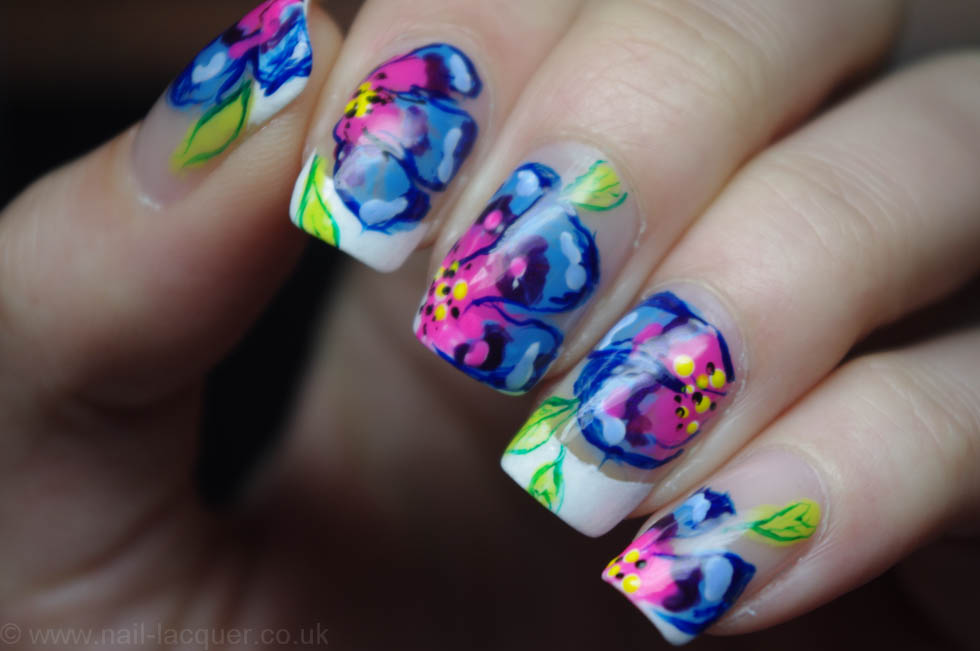 Viola flower exists in many colours and I decided to re-create a pink to blue version of it :) As mentioned above, I created it on top of a simple French tip manicure.
I used four different Essie nail polishes for the flowers. Started off with Lights (pink) as a middle of the flower, then added Avenue Maintain (blue) as the petals. I added shadows with Bikini So Teeny (light blue) on top of Sinful Colors Snow Me White and Sexy Divide (purple). For the leaves I used OPI Did It On Em and green acrylic paint for the dark green outlines. For the petal outlines I used dark blue acrylic paint.
I continued with yellow and black acrylic paints creating some anthers in the centre of the flowers. I topped it all up with one coat of Gelous and one coat of Poshe top coat.
Not sure how I feel about these flowers, they sure do look artistic but the same time I kinda feel like they look too messy :P Anyway- this design didn't make it to the daily wear and was replaced with something more wintry… but let's leave this for tomorrow ;)
Thanks for reading! xxx