Hello! Inspired by seeing a lot of confusion about what is gel polish I decided to write a quick post about it. I have had my gel polish training now (yayy me!) and therefore feel more comfortable writing about it.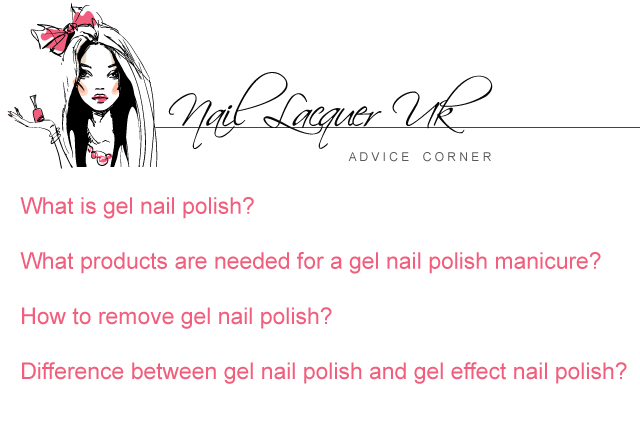 You have probably seen me showing gel polish quite a few times in my blog (see all my gel polish posts here). Gel polish appears to become more and more popular among home users. Also, being marketed more towards home users whereas not long ago it was strictly a professionals only product.
There is still a lot of confusion about gel polish.
What is gel nail polish?
Gel nail polish is a nail polish that is applied on your natural nails similarly to normal nail polish. It usually needs a base and a top coat. A vital part of gel polish application is UV/LED lamp which is used to cure (aka dry) gel nail polish. Gel nail polish is applied in very thin layers compared to normal nail polish. While curing it produces sticky residue which is wiped off with cleanser at the end of the manicure. The curing process depends on the brand of gel polish you are using but usually is around 30 sec in a LED lamp and 2 min in UV light.
Gel nail polish is popular because of it's high shine look and longevity. With proper preparation and after care gel nail polish manicure can last 2+ weeks (also highly depends what brand gel nail polish you are using).
Nails covered with gel nail polish are often called shellac nails. CND Shellac is a well known gel polish brand and the name shellac is nowdays used to refer to gel polish and not always the brand (it's like when everybody started calling vacuum cleaner a hoover because the brand Hoover became so popular).  So, if someone claims to have a shellac manicure it does not necessarily mean that they have CND Shellac brand gel polish on their nails.
Gel nail polish manicure is also often confused with gel nails. Gel nails are artificial nails that are made using hard gel. Hard gel is not the same product as gel nail polish (soft gel).
Then there are acrylic nails which are also artificial nails but they are built using liquid monomer and polymer powder.
From all three gel nail polish is the most user and nail friendly in my opinion.
What products are needed for a gel nail polish manicure?
For a gel nail polish manicure one needs a primer to prepare the nail, often buffing the nail is recommended so a nail buffing block/nail file too. As mentioned above one would need a base, colour and a top coat gel nail polish. To finish there would be lint free nail wipes and cleanser used.
To cure gel polish you would need either an UV or LED lamp (depending of the gel polish used). With an UV lamp you can cure both UV and LED gel polish. With a LED lamp you can only cure LED gel polishes.
Most brands who sell gel nail polish also sell all the necessary products that are needed to apply/remove said polish. Usually brands do not recommend mixing products so when using a brand 'A' gel polish it is recommended to use brand 'A' top, base, UV/LED lamp etc.
How to remove gel nail polish?
To remove a gel manicure you would need the brands own remover or acetone and a nail file (not always). Some brands recommend filing the shine off the gel polish before removing, others don't.
I usually use the foil wrapping method to remove gel polish. Soak a lint free pad in acetone, place it on the nail and wrap tight with foil. Leave on for 10-15 mins (follow brand instructions if different). Often when left soaking long enough the gel just falls off. Sometimes a gentle push with orange wood stick is needed but be very careful to not to scrape hard and damage your nail plate.
It is also possible to remove gel nails with soaking in acetone method. This is how artificial nails are usually removed. I have never used this method so can't comment on that but as far as I know you put acetone in a acetone resistant dish and soak your fingers in there until the gel comes off.
Another method to remove gel nails is to file the gel off. I would go for this method only when you are confident enough to know when to stop. Using a file on your nails it is very easy to over file and damage nail plate. I have not used this method either but I in my gel polish training I was told to remove it that way.
Some brands also offer peel off base coat so you can just peel off the gel. Peeling off is a big no no when a normal gel base coat was used as this will damage your nails a lot. By a lot I mean several layers of your nail might peel off and whereas that might not physically hurt you (there are no nerves in nails) it will hurt your nails making them thin and prone to breakages (until the damaged parts grow out).
Difference between gel nail polish and gel effect nail polish?
Gel polish and gel effect polish create a great confusion among polish users. Gel effect nail polish is a normal nail polish which is advertised to have a gel-like finish (high shine glossy finish). Gel effect nail polish is applied like a normal nail polish, dries like a normal polish and probably won't last 2+ weeks without wear/cracks/chips.
In conclusion, the difference between gel nail polish and gel effect nail polish is that one is gel polish and the other is normal nail polish.
This blog post turned out to be a lot longer than I initially planned but I hope it was interesting to read and clears up some confusion about gel nail polish.