Hello, I'm here with another review for the good old nail art and more recently, nail polish supplier Born Pretty Store. When I first started ordering from Born Pretty Store they mostly concentrated on selling nail art products such as water decals and nail decorations, however I am pleased to see that they are bringing more and more nail polish collections in the store too. I am reviewing one of their new mini polish sets today, the polishes are called Bgirl Sparkle Yogurt Milky Glitter Polish and you can find it under the ID: 6562 (opens in new window).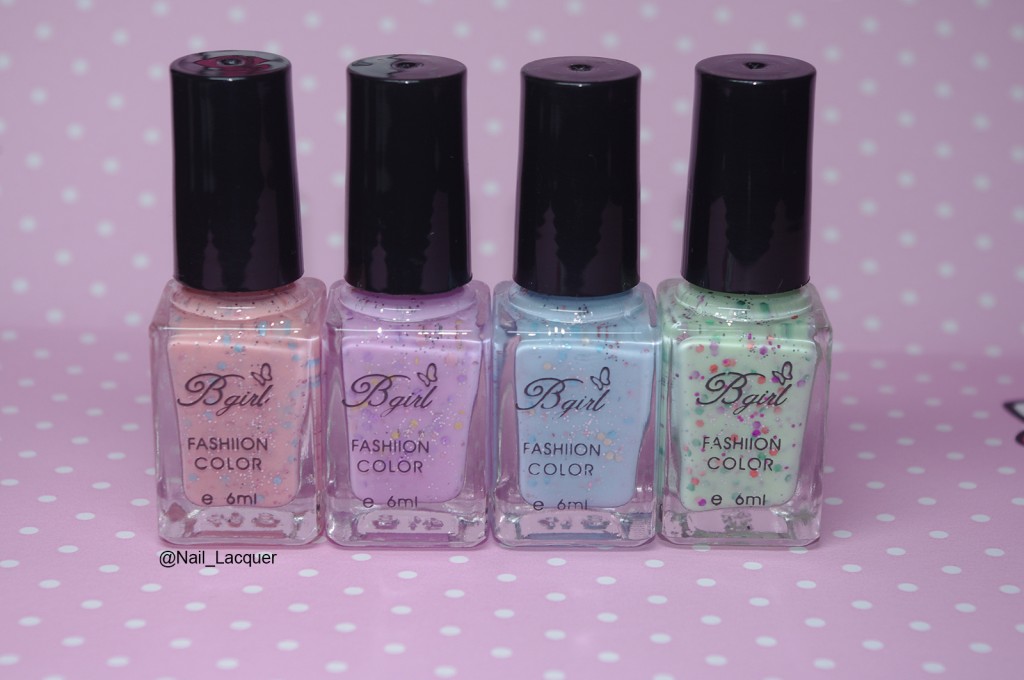 Bgirl- Sparkle Yogurt Milky Glitter Polish Set.
Firstly, about the name Bgirl… Bgirl itself sounds a pretty nice name for a polish, a bit girly with a edge I guess. However, I was surprised to find out hat Bgirl stands for Barbaric girl, yes BARBARIC. Not sure if it would be my first choice of polish name if I were to make my own polish one day but I've heard a saying that don't judge a man by his name and therefore I am not going to judge the polish by its name :D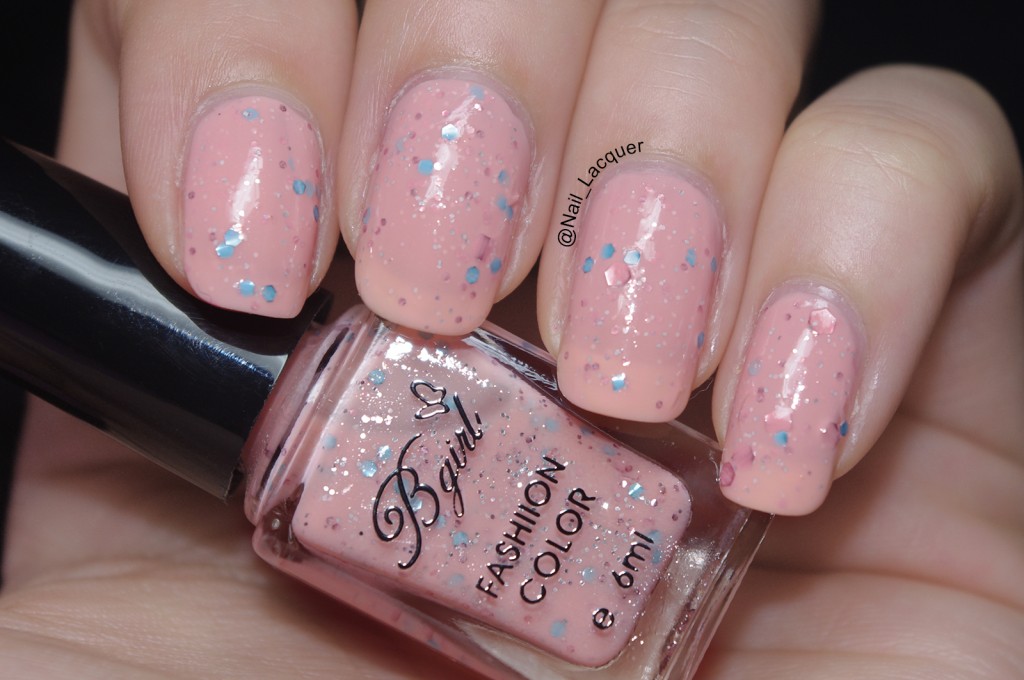 First polish from this set is a beautiful peachy pink creme with medium light blue, larger and smaller pink and small silver glitter bits in it. The polish applies well, there is some visible nail line after 2 coats but I really like it that way.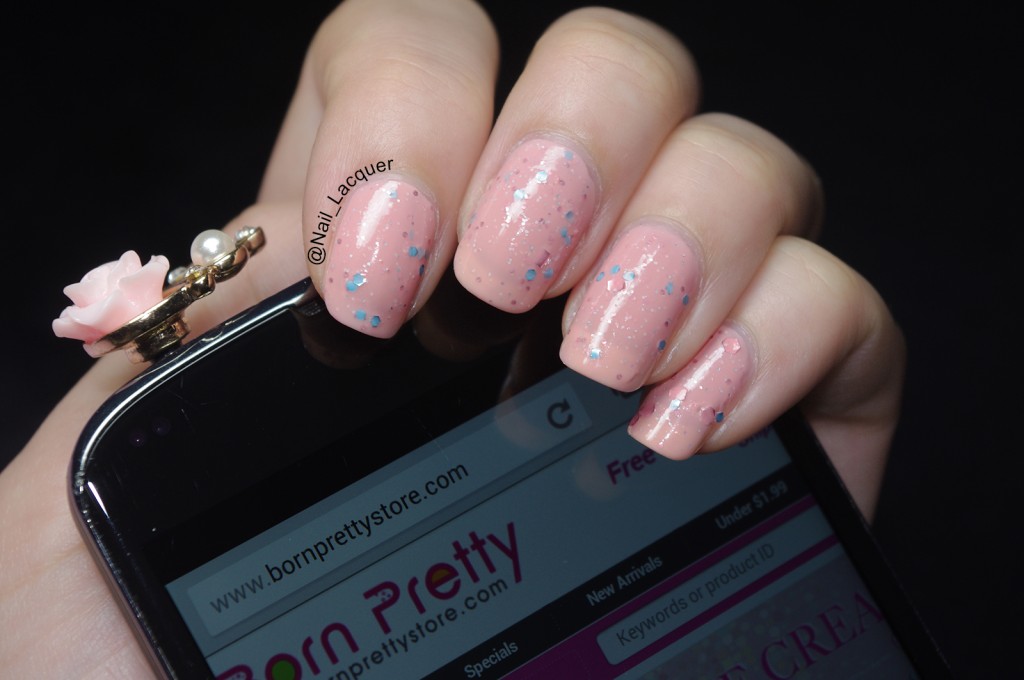 Only downfall with this polish is that some, weirdly not all, large pink glitter bits were a bit curled on the sides but nothing that a layer of topcoat could not fix. I did take the photos without top coat to show you the finish and it's not bad at all, I can barely see the curling from the photos to be honest.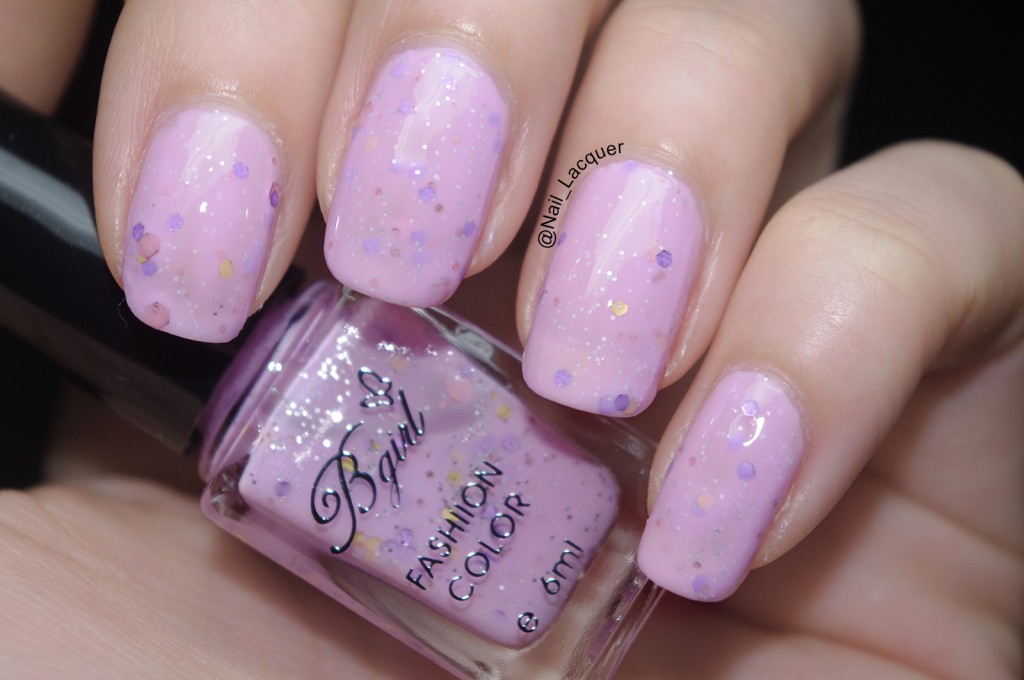 Second polish is a lovely lilac color creme base with large pink, medium purple and golden and tiny silver and pink glitter bits. The lilac base color is very vibrant and fresh looking, this polish is definitely one of my favorites from this set.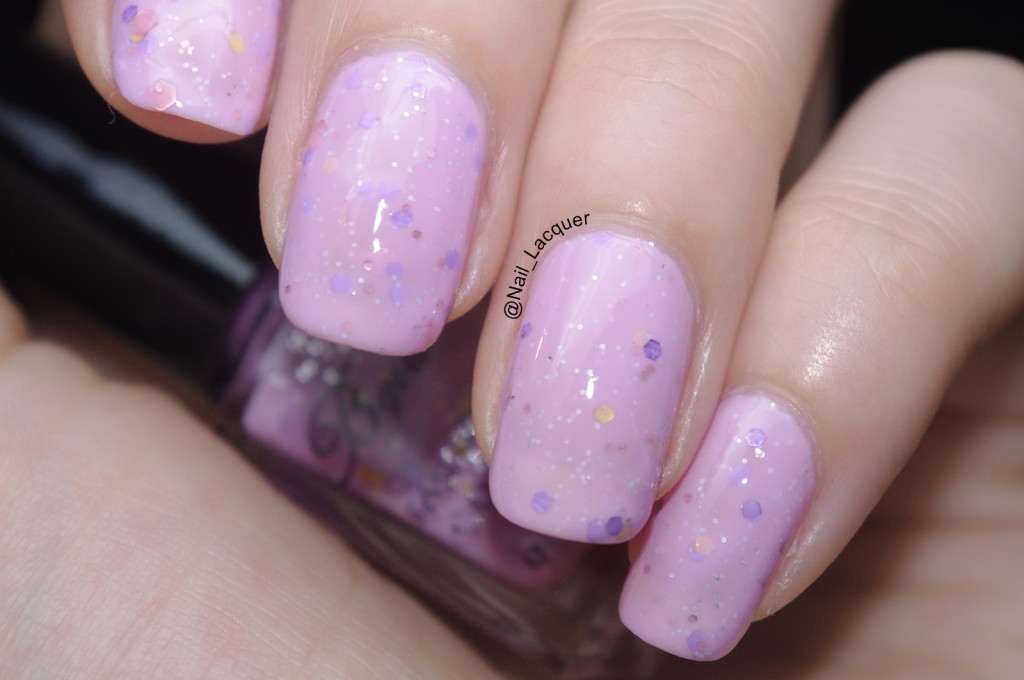 All of the glitters spread very well and left a smooth finish, I used 2 coats of polish which left a pretty opaque finish, I can barely see the visible nail line. I also used top coat this time.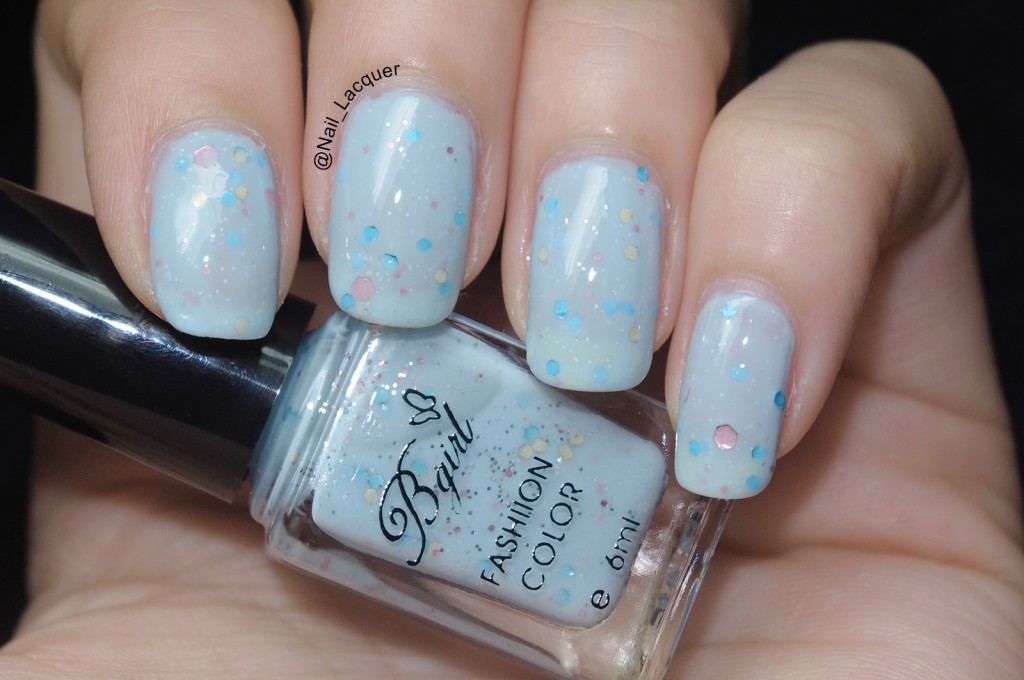 Third polish from this set is a cute baby blue creme with large pink, medium blue and golden and small silver and pink glitter pieces. This polish left a delicate finish with some visible nail line.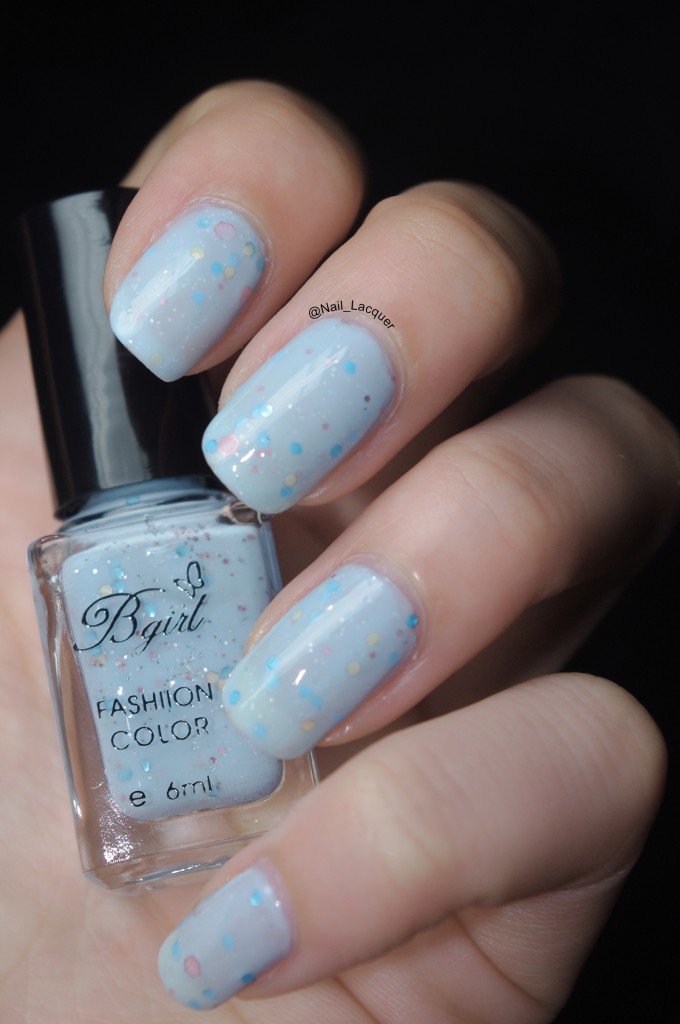 I used 2 coats of polish and a top coat for the final look. I must add that all of the polishes have a great brush, I am used to have a small brush with such tiny bottles (6 ml) but in this case the brush is pretty reasonably sized making the application process a pure joy.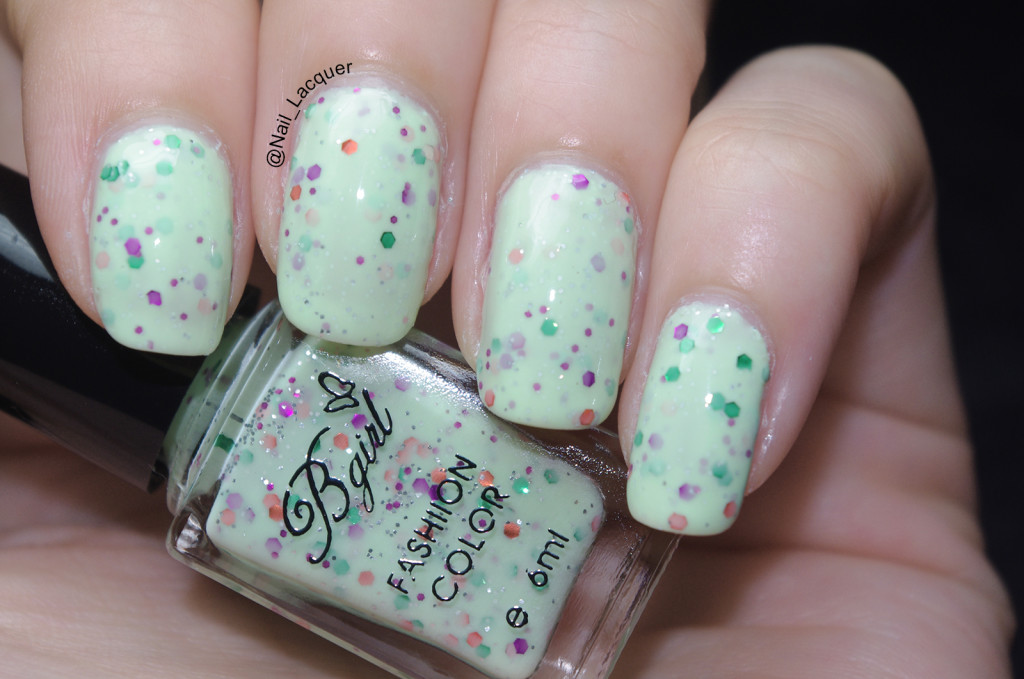 Fourth and final polish from this set is a gorgeous mint green with medium purple, red and green and small purple and silver glitter bits. This polish was more sheer then the other three and therefore I used 3 coats of polish. It looks very opaque after 3 coats and there is no visible nail line. I also used one coat of Color Club fast dry top coat.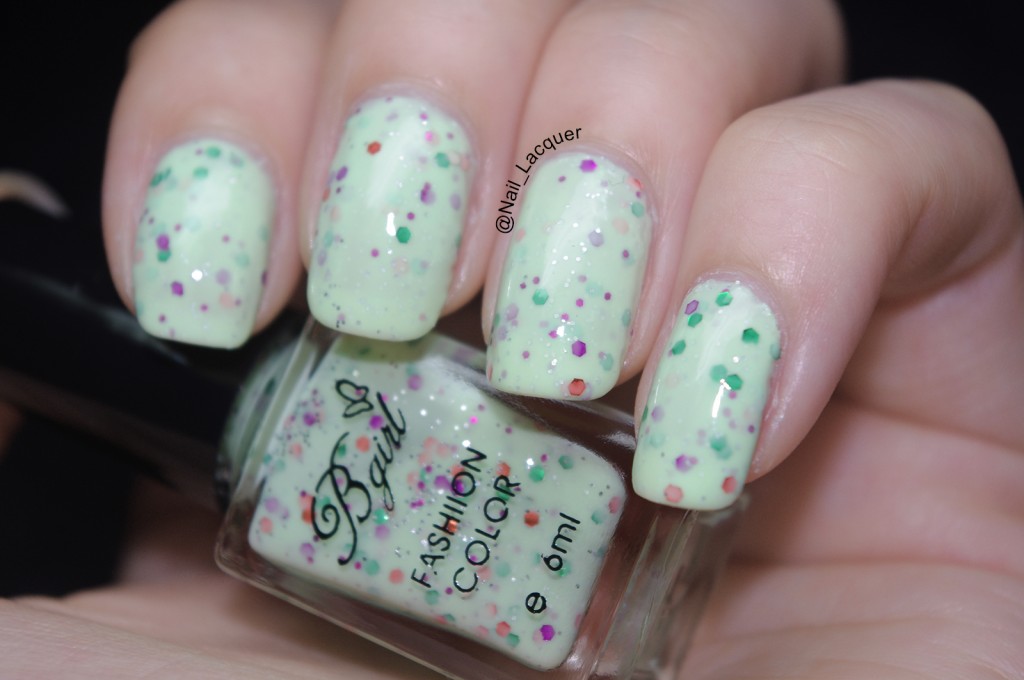 I must say all 4 of the Bgirl glitter polishes have been a pleasure to apply and to look at, really beautiful creme base and nice glitter bits.
Thanks for reading my  Born Pretty Store Bgirl Sparkle Yogurt Milky Glitter Polish review and let me know what do you think of those little pretties ;)
*PRESS SAMPLE