Hello and happy October! Today I am showing you a few PR samples from Jessica Nails at Home

Firstly, I will tell you a little bit about their nail care range. I was sent two base and two top coats to try out. These are part of Jessica's 'At Home' range which includes different nail care products including base and top coats.
I found it very interesting that all the nail care products came with very detailed instructions to get the best out of them. Usually using nail care products like that takes a little longer and therefore I think I will make a schedule to actually REALLY test the products. I am thinking abut wearing Jessica products on one hand for a while and continue with my usual routine on the other.
Jessica Critical Care
Critical Care is a product for soft, weak and peeling nails that take a long time to grow.
My nails do peel at times, my right hand middle finger is actually very weak at the moment because about three layers peeled off the other day. So it's bendy… I'm sure you all know the feeling. Anyhow, I feel that it is therefore a perfect 'customer' for the Critical Care treatment (well all the nails on my right hand will be). I have only applied it just now, but I do feel that the base coat did give the nail a level of strength (I applied two coats as directed). So, I feel it's a good start. I will be back with some more detailed review in couple of weeks time.
Jessica Rejuvenation
Rejuvenation is a basecoat for nails that are dry, have a powdery finish, strong ridges or white spots and they may also peel. This really doesn't describe my nail type at all, so I have chosen to test out Critical Care for now, but I might come back and see if Rejuvenation brings a different result for me.
Jessica Top Priority
Top Priority is a top coat that helps to seal moisture and protects the nail. This is very intriguing. I have not heard on any top coat to be able to do anything like that. I think it will be very interesting to try it out.
Furthermore, Top Priority is meant to help the nail polish to last longer. However, the product instruction does advise you to use it under Jessica Brilliance top coat. So, the idea is that the combination of the two would make the polish last longer.
Jessica Brilliance
Brilliance top coat is a fast dry top coat that gives the nail a brilliant shine. As this product has been the easiest to test out, I can confirm that it really does dry very quick. It also provides a very gel-like shine. It has a very similar gel-like feel even on the next day… I approve so far. It reminds me of Jessica Phenom Range fast dry top coat which I am a big fan of!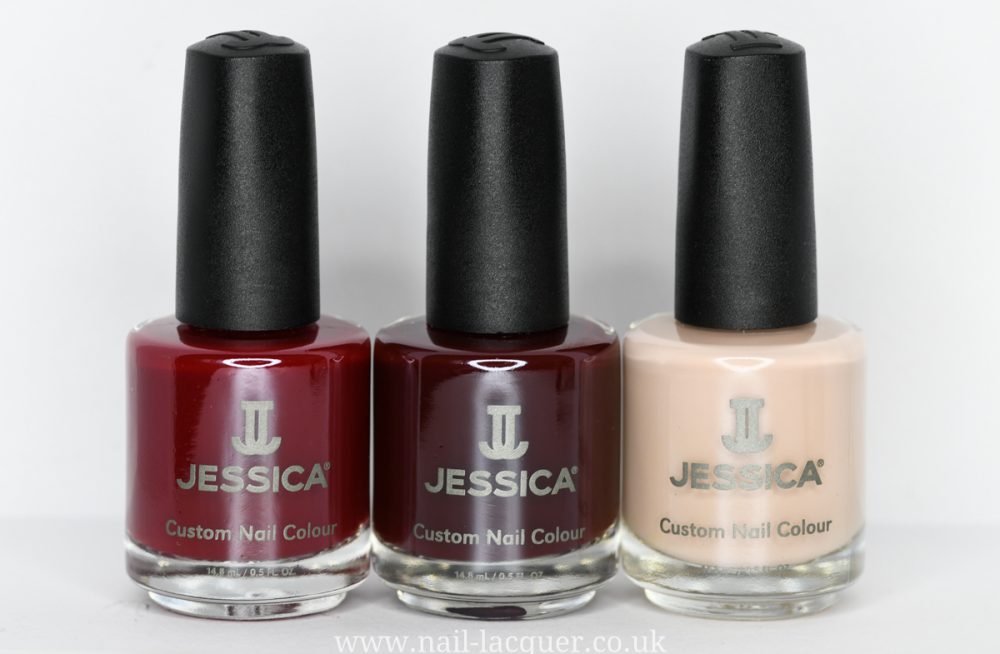 Now to the nail polish colours… On the swatches below I am wearing two coats of each polish with Jessica Brilliance top coat.
Jessica Sssh!
Nail Lacquer UK rating:
Jessica Merlot
Nail Lacquer UK rating:
Jessica Cherrywood
Nail Lacquer UK rating:
I hope you enjoyed my introduction to Jessica nails at home range. I will be back with a more detailed review after I have has some more time to test them out.
Find Jessica nail care range and many other Jessica nail polishes here.
If you want to see more Jessica swatches, check out my other blog posts here.