Hello! I have Orly It's up to blue swatches for you tonight. I ordered six beautiful Orly nail polishes from Graftons Beauty on Sunday night, they had a pretty awesome two for one deal plus free shipping on orders over £25 going on so I just had to order few totaling over £25- just to benefit from both of the deals lol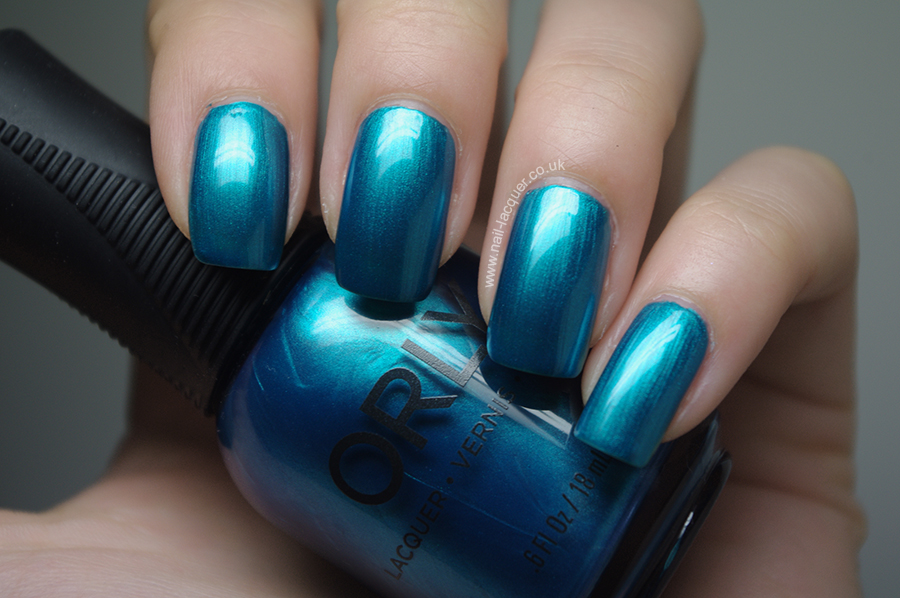 It's up to blue is a beautiful shimmer teal blue polish that applies so well and leaves a gorgeous opaque finish after 2 coats of polish. This polish is just flawless, I am so happy with it! I am keen to try the other 5 polishes I got as it seems to me that I am totally falling in love with Orly right now :P
As we all know I am not the biggest fan of plain polished nails, I added a bit nail art and bling to it. I used a make up sponge to add my own Nail Lacquer UK Turquoise is not dead nail polish on the tips of my nails. I added about 2 coats plus few touch ups.
I then added few swirls and lines with W7 Black, which I find is excellent for nail art but I can't get over the smell. I don't mind the regular nail polish smell but I am very sensitive to nail polishes that have different smell and I tend not to use the ones with unpleasant smell, however this polish seems to prove the opposite lol.
I am looking forward to try out my other Orly's, I hope you are looking forward to seeing the swatches :) Thanks for reading and have a lovely evening!