Hello and happy Wednesday! I'm celebrating the middle of the week with a peacock nail art. I'm actually a bit gutted as I just missed a nail mail parcel due to the fact that I couldn't find my front door key :( Now I have to wait until tomorrow, I'm so sad as I was soooo looking forward to to it… Check my blog in the next few days and you will find out what I was looking forward to ;)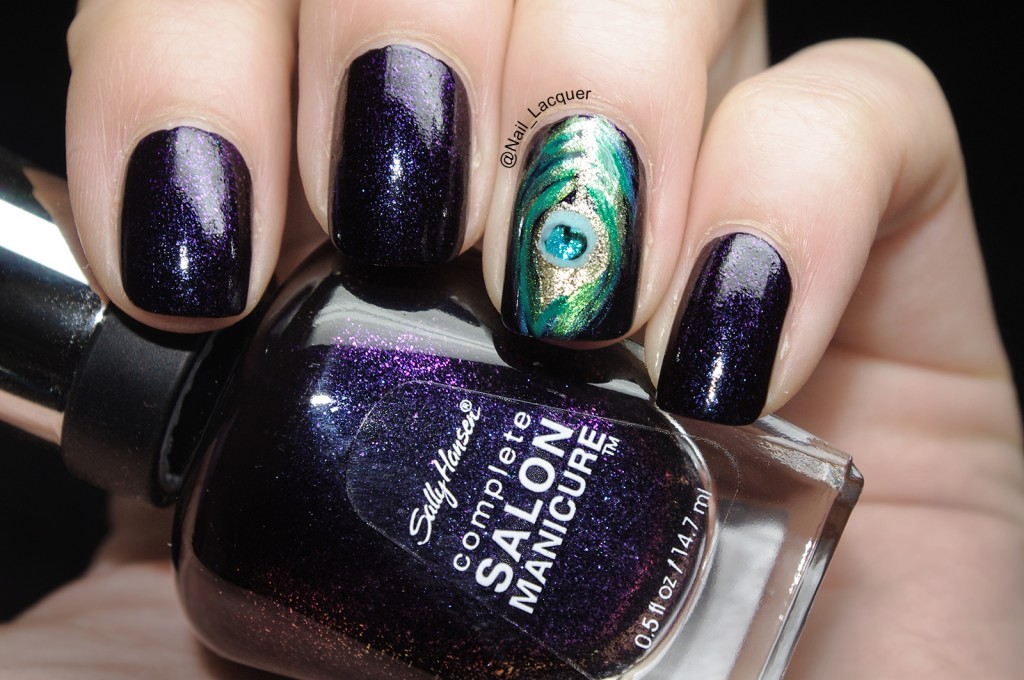 Sally Hansen Complete Salon Manicure- Loves Me Not.
Ok, so to the peacock nail art. I used Sally Hansen Loves Me Not as a base, it is a gorgeous dark purple duo chrome polish with tiny flecks. It looks more duo chrome in the bottle than on the nails, but other than that it is pretty much prefect. Not only it's easy to apply due to the great brush, it's pretty easy to remove too… way easier than glitters or some other fleck polishes I own. I can't believe they were giving it away with just £1 in Poundland.
For the peacock feather I used too many polishes to list, however I would like to point out the golden polish. It's Ciate Sand Dune and I got it for free with Marie Claire back in April. I haven't used it since then as I wasn't overly amazed with it when I first tried it. I remembered it being rather sheer, however it worked first-class for the nail art, I am definitely going to use it more often from now on.
Thanks for reading and don't forget to enter my $20 Born Pretty Store Giveaway.