Hello and happy Monday! I had a nap earlier tonight and now I am suffering light insomnia being up at 3 am and doing my nails. I can't believe that UK Indie Month is over in 10 days and I have 8 more polishes I wanted to show you!!! If I won't manage to show them all this month I might have to carry on into November :P Anyway, here I am with Pocket Money Polishes Brown Eyed Girl swatches.
Pocket Money Polishes Brown Eyed Girl is a gorgeous mixture of holographic golden, brown and pink glitter. I'm usually not the biggest fan of brown but the mixture with pink got my attention and made me fall in love from the first sight. It's just such a perfect autumn polish, definitely a seasonal must have ;)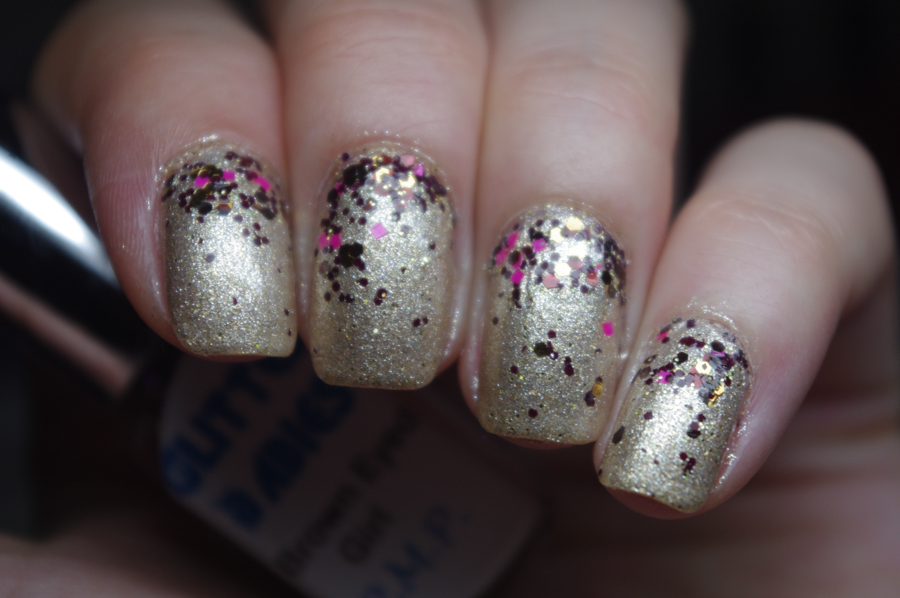 I used Claire's 96786 as a base, it is a golden micro glitter polish. I used make up sponge to apply it- hence the messy skin :( It was really had to clean it up but the result is much softer and no brush lines ;) Claire's was having an insane polish sale this weekend, five polishes for just £1. The shelves were quite raided but I managed to get 15 polishes spending only £3 :D I also bought few China Glazes, one OPI and few other polishes this weekend… totaling 21 new polishes WHOOPSIE!!!
I am really loving the P.M.P and Claire's look, what do you think? Do you have any of the Pocket Money Polishes yet? If not make sure to check out P.M.P retail page and blog. Thanks for stopping by and make sure to leave your links when you comment as I love to read your blogs too, especially when having sleepless nights :P xoxo