Hey all, so I am here with huuuuge and exciting news! So the whole past summer I have been planning and preparing for a new feature in my blog, a SHOP page and on this shop page I am selling my own indie and franken polishes. I got into frankening when I started to mix different polishes to get new colors (my Ombre nails for example). I found that the new colors I was creating often became more awesome and unique than the colors you can buy from the store and what else to do with my creations than to share them with other polish lovers!
Let me introduce a few of my creations. Firstly I would like to show you my first franken collection, it's called "Happy Birthday" and there are 4 pastel lacquers in this collection.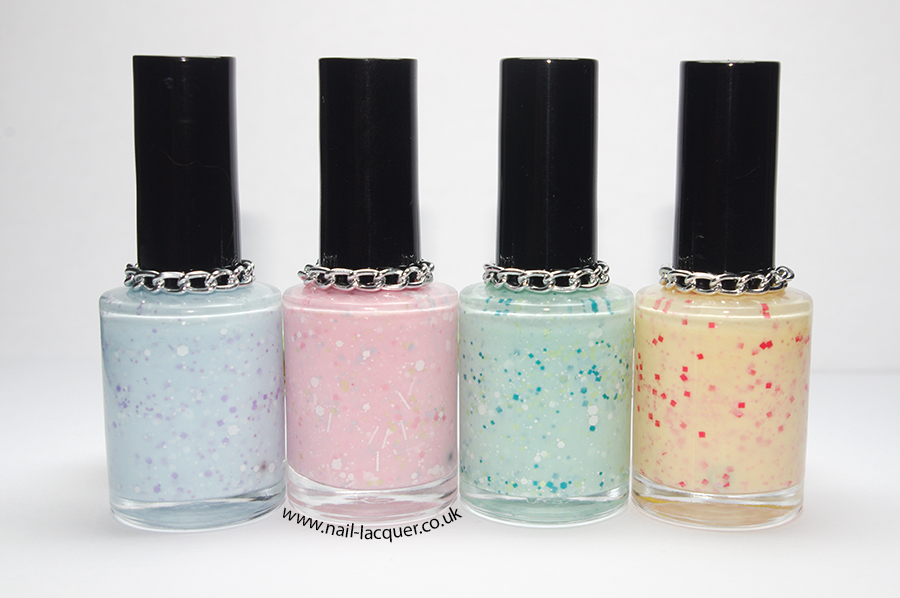 L-R Don't Stay Up Too Late, Bring Me Love, Younger Again! and Eat My Cake.
I created this collection thinking about the polishes I would love the most, and I sure ended loving them a lot!!! They are really cute, however quite sheer and need at least 3 coats for a nice finish. It's quite obvious that pastels are my colors looking at my blog design and my polish design lol.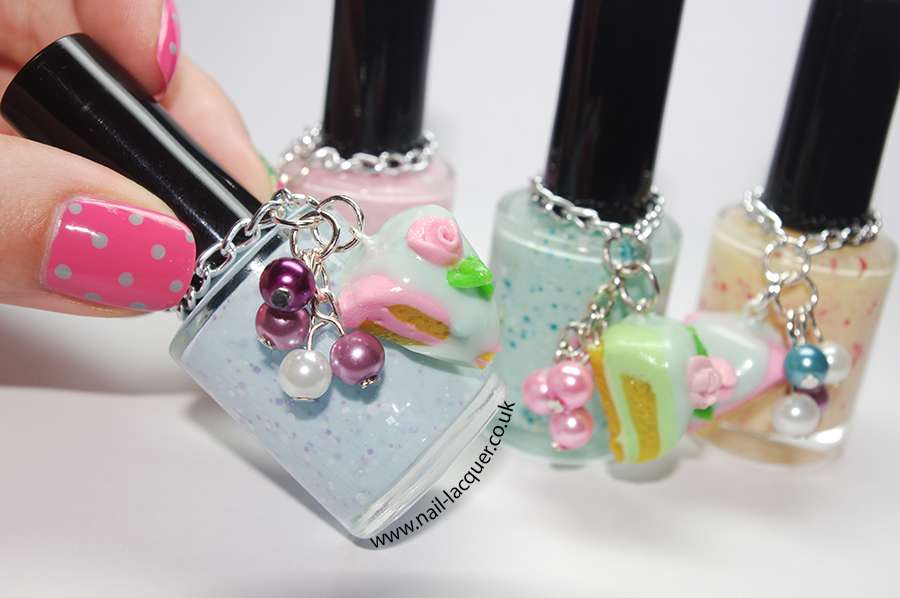 These polishes come with a handmade charm, handmade by me obviously ;) Yeah I was 100%  crafty with these polishes and I spent AGES on them to make sure that they will look perfect and unique. I created 3 sets of this collection (12 polishes in total)- one for myself and 2 others for sale.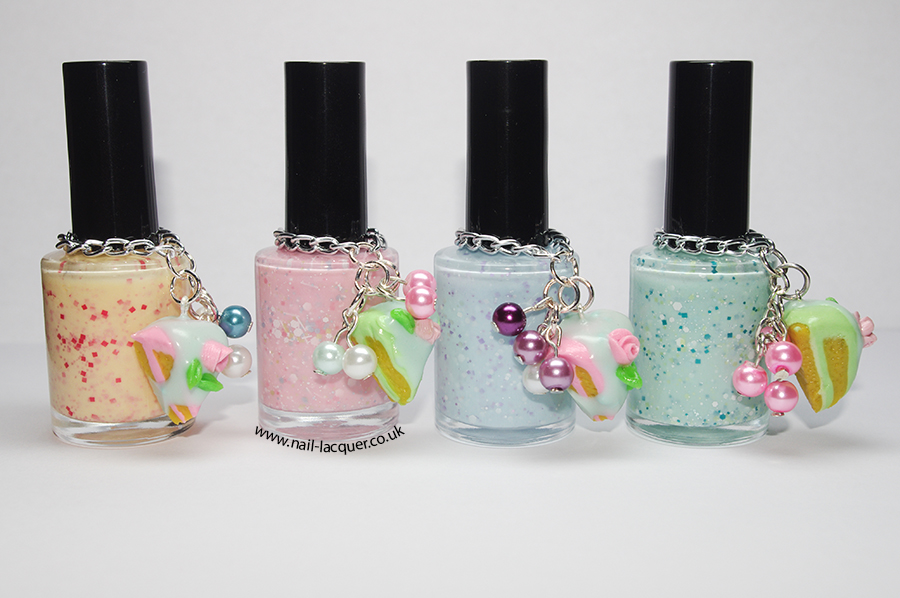 All of the polishes have different charms making them even more unique. These handmade franken polishes are priced £7.50 each (plus postage). If you feel that's a bit pricey for you I also offer some cool glitter topper lacquers for only £5.50- that's the cheapest 10ml indie poish I have seen in UK ;) AND it's 3 FREE! ;)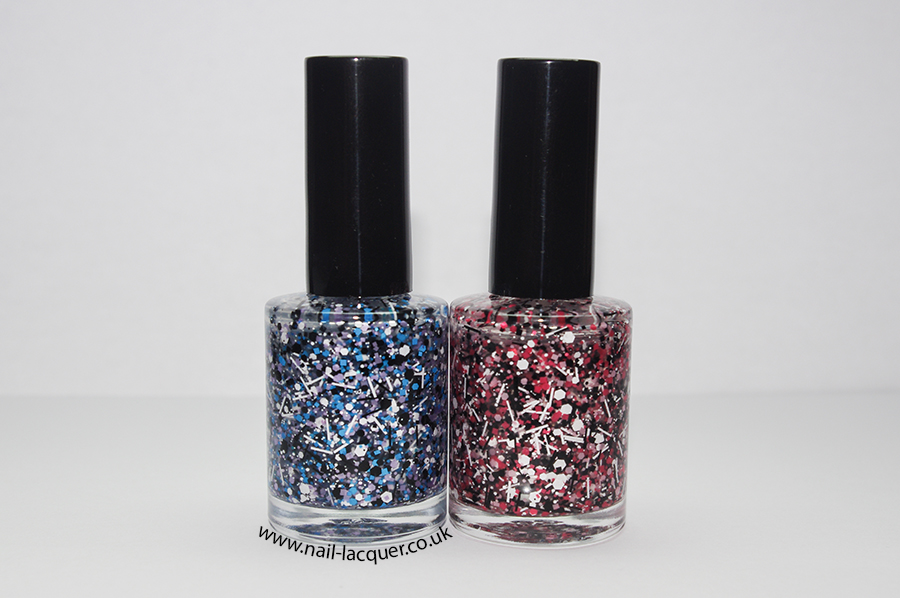 L-R: Sticks and Stones Blue, Sticks and Stones Red.
Yes, these cool graffiti style polishes are on SALE for £5.50 at the moment. My regular glitter topper price is £6.50 and here are few of the regulars: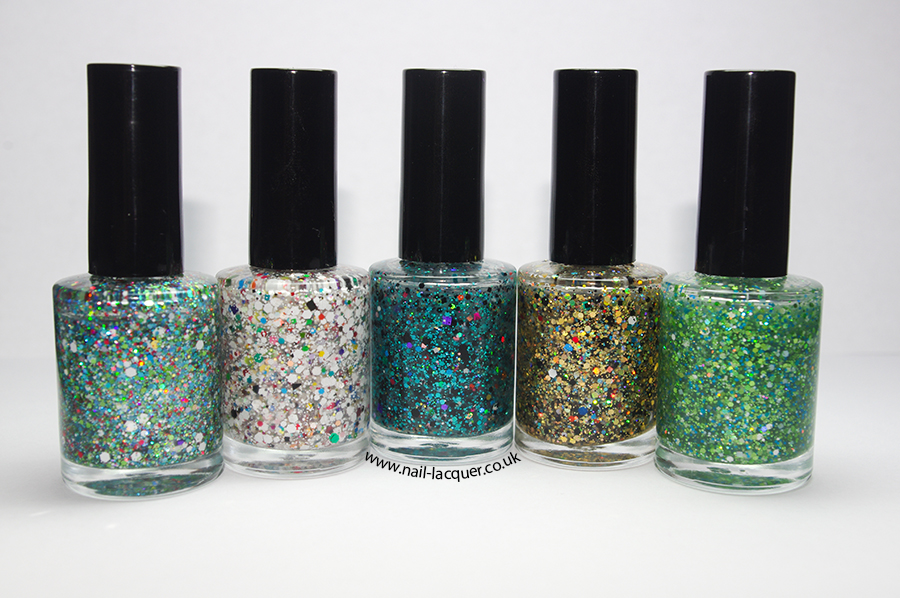 L-R: Blinded By The Bling, Can't Stop The Glitter, Turquoise Is Not Dead, Dig My Gold? and Ariel's Tail.
All these glitter toppers are full of colorful glitter mixed with lots of holographic glitter, super shiny and pretty :) Unfortunately these come without a cute polish charm, however if you would like one with a charm let me know and I will make you a custom listing ;)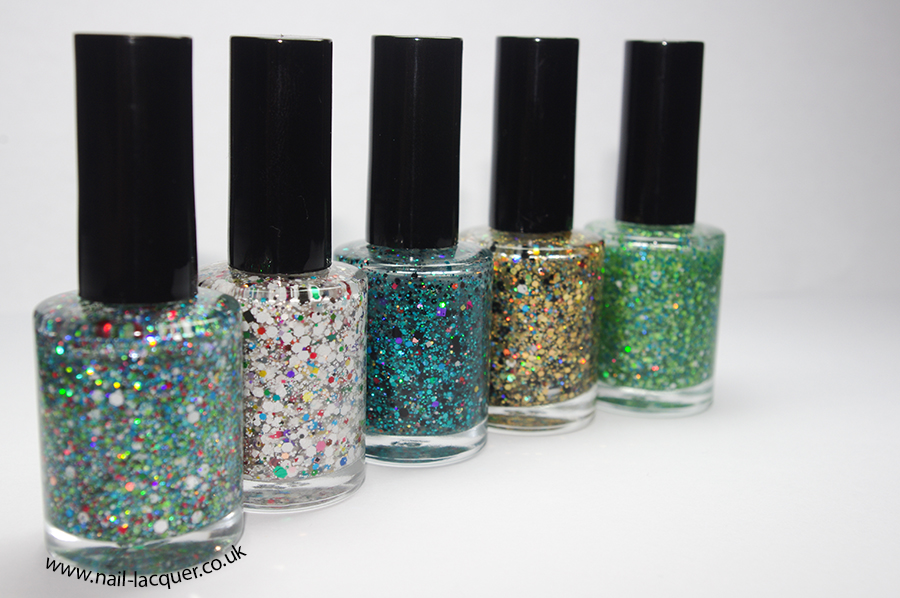 If you fancy seeing all the polishes I am selling at the moment visit either the SHOP page on my blog or navigate straight to NailLacquerUK Etsy shop you can also see all the swatches there. Unfortunately I am only able to ship within UK at the moment, however if you really NEED one of my polishes and you are willing to wait I will be able to post it to you when I travel overseas, just write me an email and we will figure something out :)
Now I am very, very keen to hear what do you think of my handmade polishes? Please let me know even if you don't like them!