My nail polish stash has grow quite big over the past few years and I thought I might as well show you how it looks. I don't think I've ever done a post like that before other than showing you a photo back in 2013 when I built the first rack (see it here) and then back in new years (here).
My nail polish stash
So this is how it looks when you walk in the room. Right now I have no idea how many polishes there are, I think about 500ish in total. I try to keep my collection 500 or less and often sell/give away polishes I don't see myself using.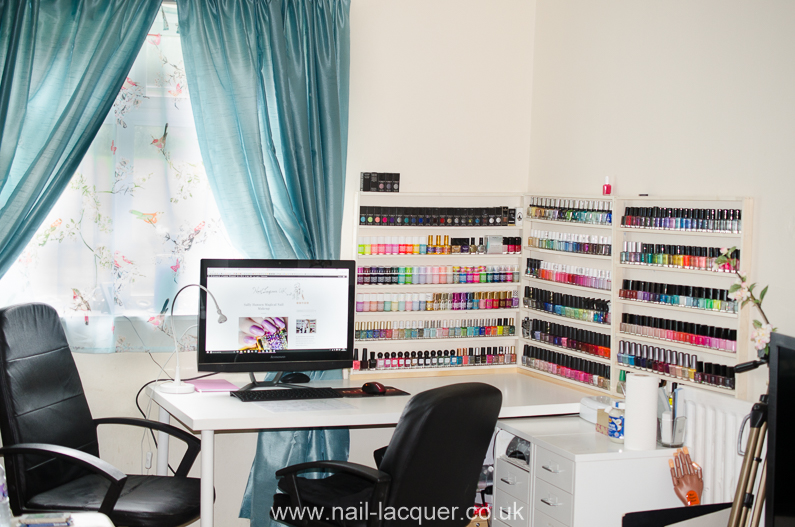 The set up have not changed much since I last showed a photo of it. Few months ago I moved it to a different part of the apartment. I put it under the window so I can see out while sitting there. I also have an amazing view of my aquarium on the left which is part of the reason I prefer this part of the room.
Here is a little sneak peek of the aquarium view.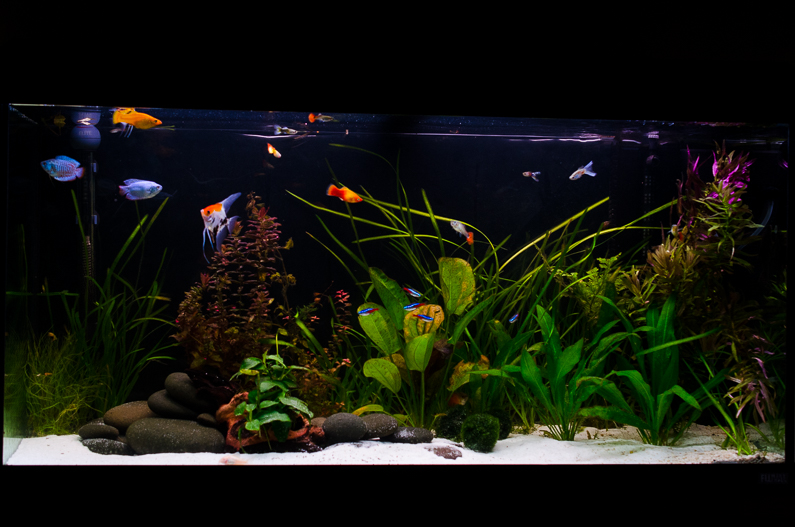 Okay, now let's take a closer look of the polish racks.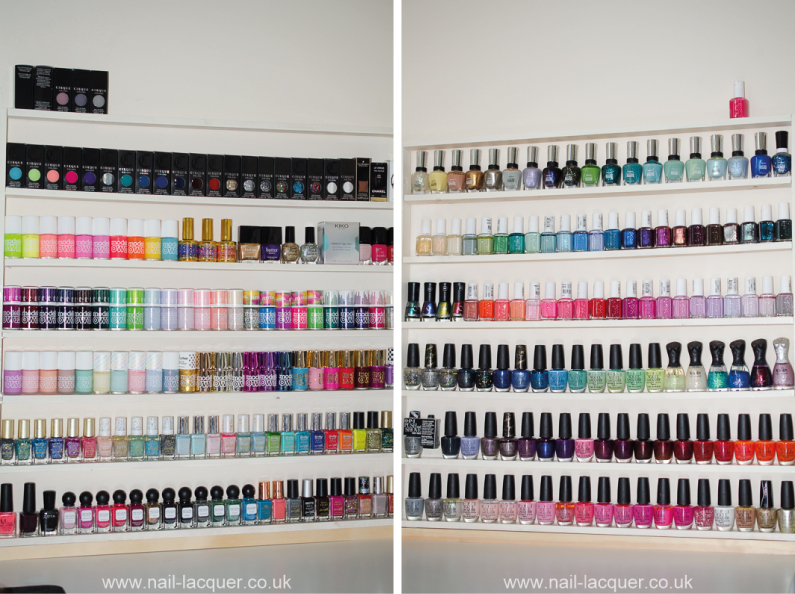 The first rack is full of Cirque Colors, Models Own, Barry M and Revlon polishes. There are also a few Misa polishes that I like and a lonely Zoya polish called 'Storm'. It's probably the most stunning black in my whole collection (see the swatch here).
The rack on the right consists of a little Sally Hansen Salon Manicure collection. I have quite a few of them but I rarely use them. Not sure why as I love the flat brushes this collection carries.
Then there is a fair few Essie polishes and a few Dance Legends as well. Bottom half of the rack is filled with OPI polishes and a few Nfu-Oh's. These are the best flakies in my collection, look at the number 51 for example (swatches here).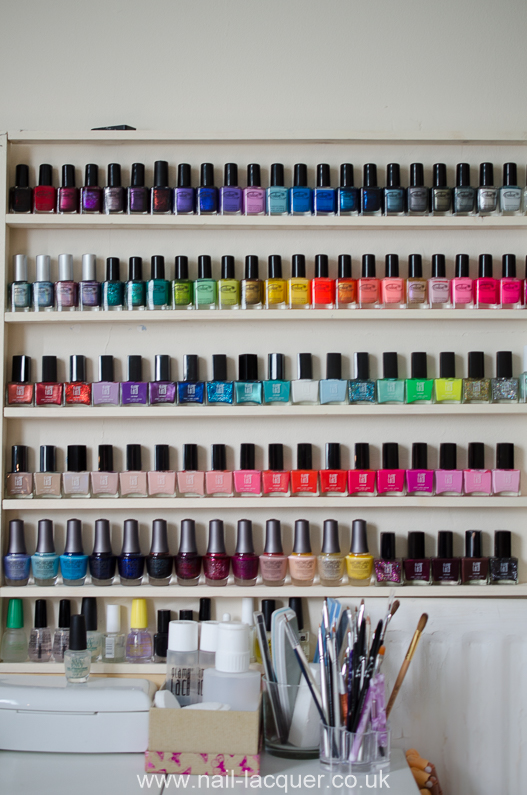 The last rack is full of Color Club, Glam Lac and Morgan Taylor polishes. I am going to move the Morgan Taylors or some of the Glam Lacs to Helmers soon as I have 17!!! Color Club polishes on their way to me right now (actually five already arrived this morning). Naughty me went on a spending spree the other day haha.
The bottom shelf has all my base and top coats and other often used stuff such as liquid latex, black and white polish, cuticle remover, matte top coat etc.
Now lets peek in the Helmers. I have two Helmers in total but they are not all filled with nail polish.
The first drawer is actually left open and I have my Gelish LED lamp in there. It gives me an easy access when I need to use it but at the same time hides it away and protects it from dust and accidents. I am very clumsy and it was kinda expensive so I just can't keep it on the table. With the amount of times I have dropped my photography lights, camera etc… it just needs to be in kept there lol.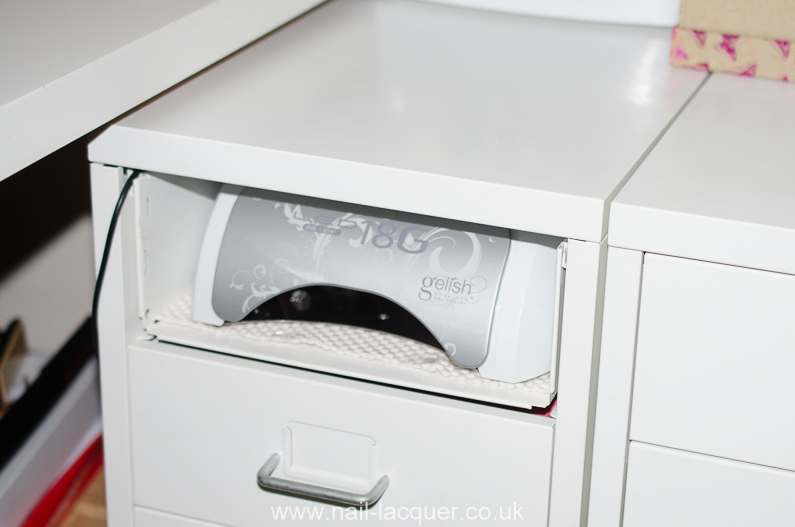 The next drawer is just full of pens and stationery items so I didn't take a photo. The drawer after has all my stamping plates and my one stroke books in.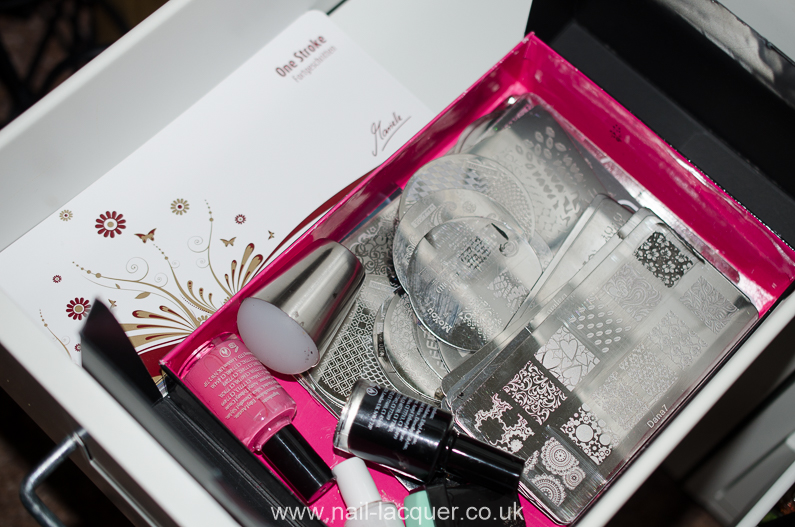 Then there is a drawer full of swatch sticks. I used to keep up with painting the sticks but then kinda lost track so now they just sit there.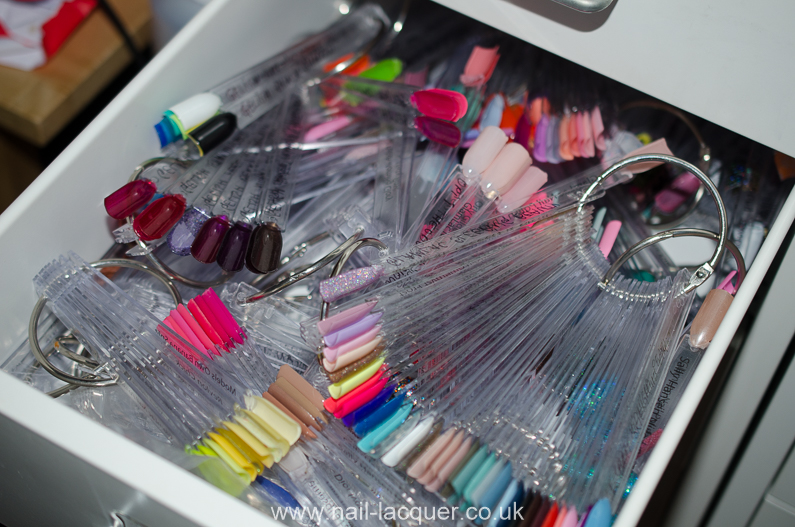 The drawer below is again full of some paperwork like training manuals etc. so it was not worth a photo. The bottom drawer has all my camera stuff in including my old camera that I used to use when I started blogging. I still use it for holidays and outings as my precious D7000 only has a 40mm lens. And I prefer not to bring it to the beach with me, the Pentax is already used to falling in sand occasionally.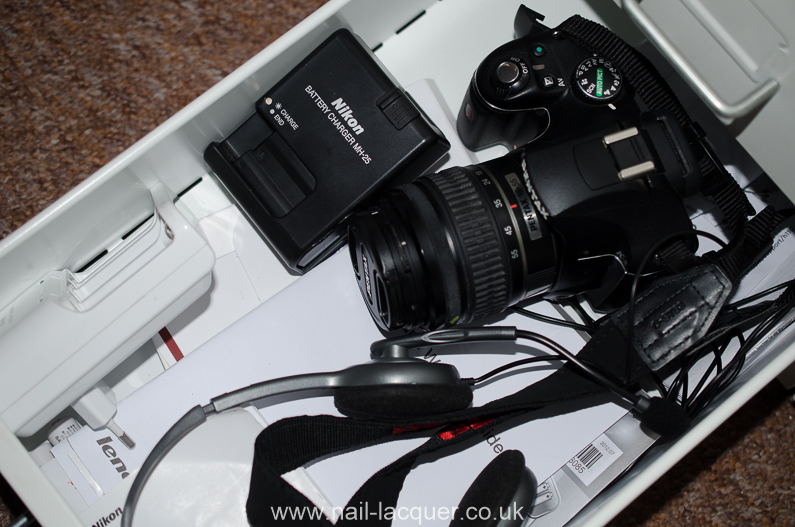 The first drawer of my second helmer is one of 'those' drawers. Full of some random stuff that I sometimes use.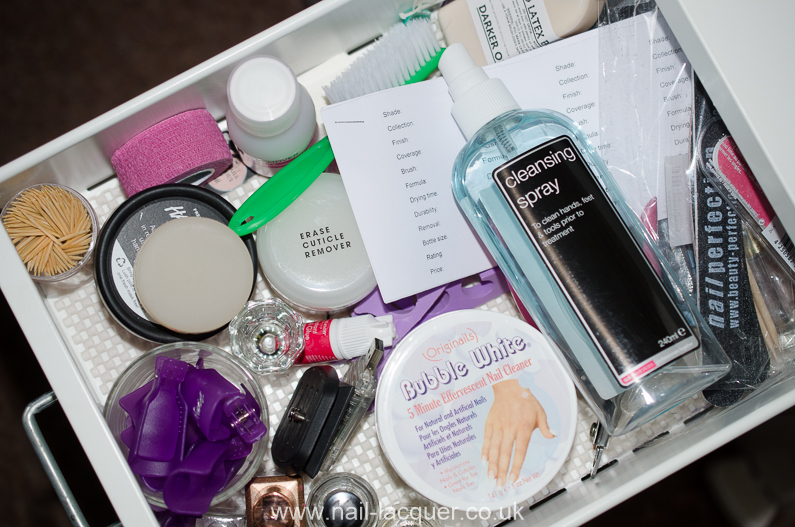 Then there's all my nail art stuff from acrylic paint to water decals.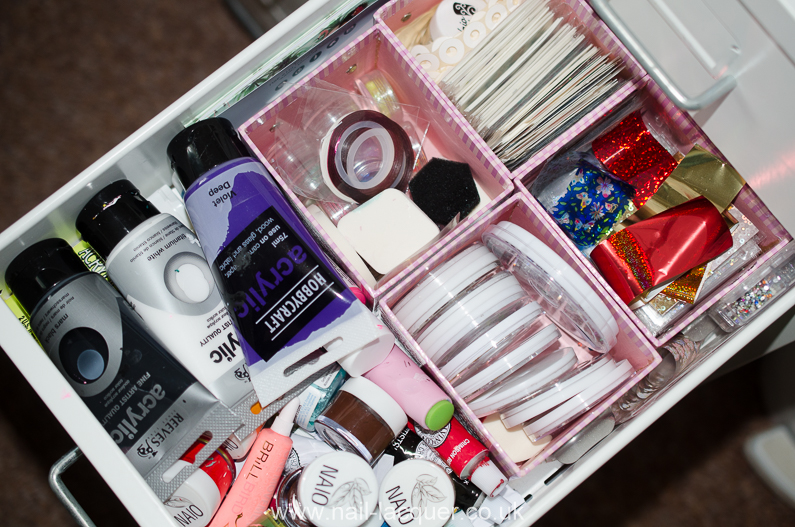 Okay now it's time to show you my gel polishes. First gel polish drawer is full of Nail Harmony stuff. It has everything: Gelish gel polish, hard gel and acrylic l&p. The liquid is actually kept somewhere else as it STINKS.
My favourite Gelish polish is Oocha Coocha Bing Bang Bam Alakazy Alakazam! (see the swatch here).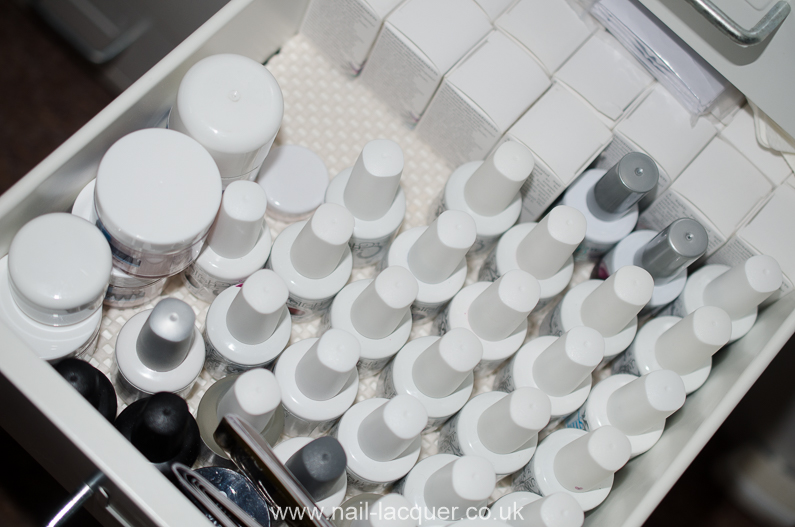 Then there's a drawer with MegaMix, Pink Gellac and GlamLac gel polishes. My favourite collection from GlamLac is definitely the latest summer collection (see the swatches here). Pink Gellac also had a very nice summer collection (see it here).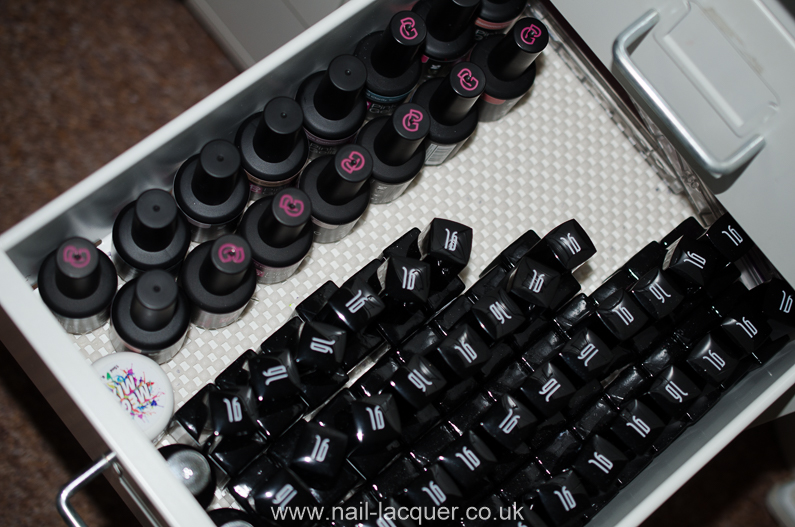 Okay and the last two drawers are full of nail polish that didn't fit on the polish racks. There's just all different brands both indies and mainstream.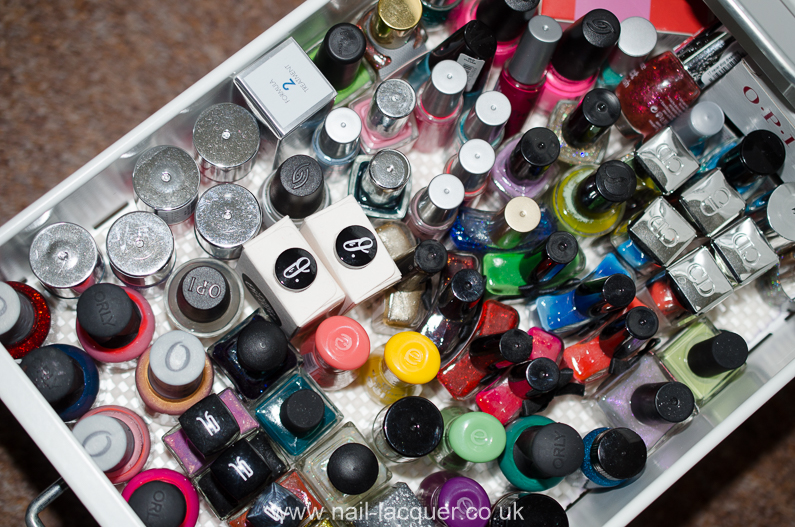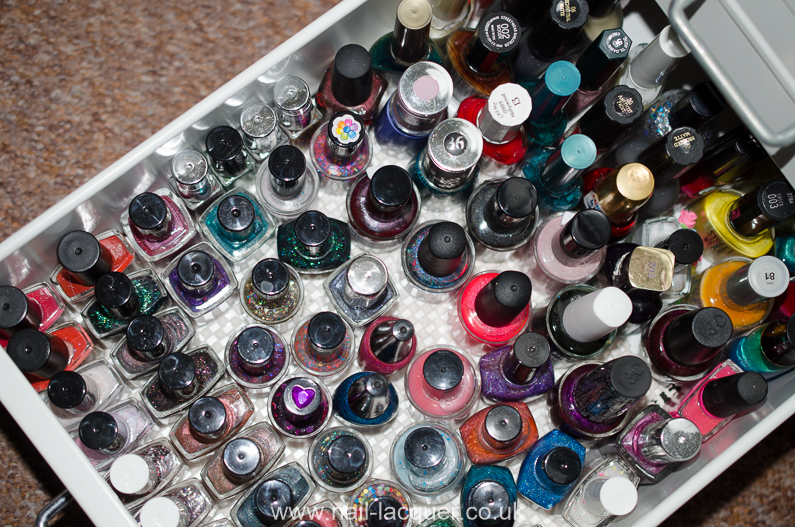 I keep all my nail brushes and tools on top of the Helmers. I also keep some paper towel, coconut oil, cotton pads, nail polish remover etc on top for easy access.
I hope you enjoyed the tour around my polish stash. I love reading these kind of posts so please do show me your stash as well!