Hello and Happy New Year!!! May 2015 bring us some new and exciting nail polishes and cool new nail art techniques.
The past year has been very kind to me, I've added a lot of beautiful polishes to my collection and learned new skills.
I am so glad I managed to do Manicure and Gel polish courses which further developed my knowledge about nails and nail care. I am keen to educate myself more during 2015 and have already booked a gel extensions course.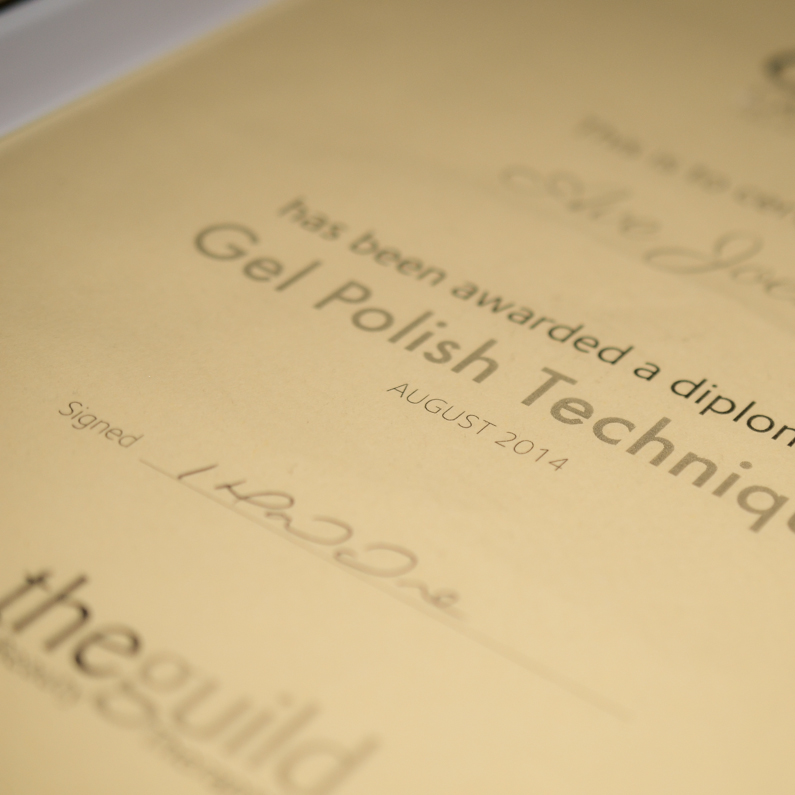 Over the past year I also improved my photography skills a lot which has helped me to bring you better swatches and better quality tutorials. There's still a lot to improve; my goal for next year is to develop my tutorials even further (add voice-over!) and maybe do some videos where I show you around my collection etc.
I have added a lot of new polishes in my collection but also said good-bye to so many. Some of the most exciting polishes/collections for me from the past year have been Clarins 230, Barry M Glitteratis, OPI Neons and my first GlamLac gel polish collection. I tipped my toes (and fingers of course!) into the world of gel polish and I am loving it!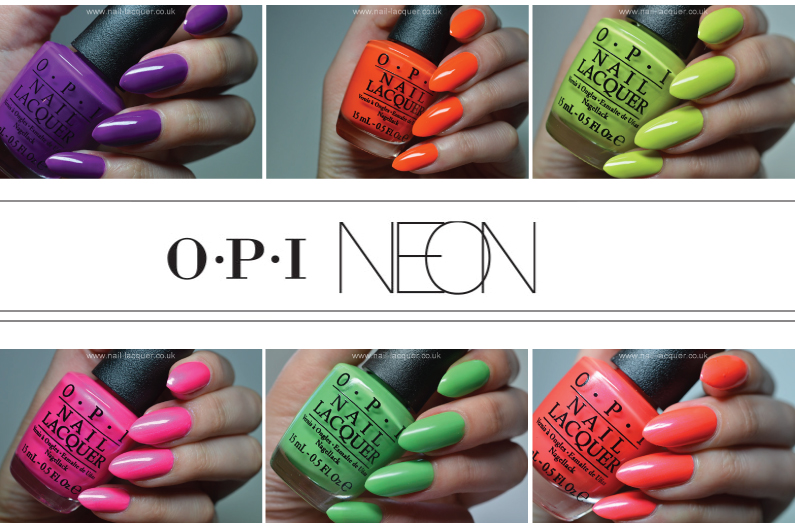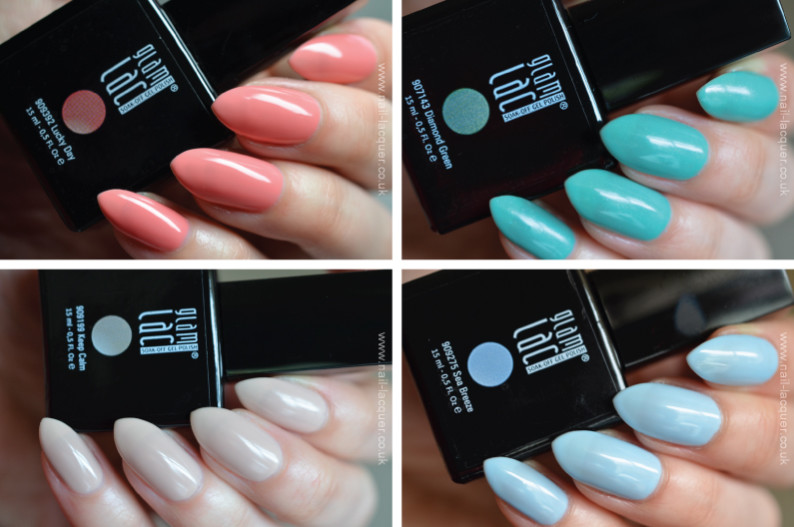 My least favourite polish from the past year has been Miss Match Purple Passion which was a complete waste of £3.50. I hope they have stopped selling this crap.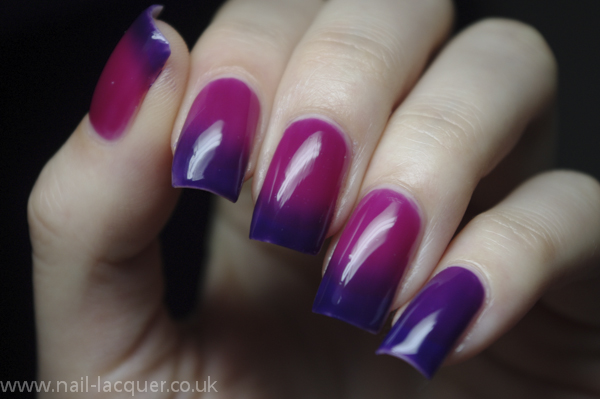 As of nail art the year has not been as blooming as I would have wanted it to be. I haven't had time to do as many nail art looks as I have had the ideas. I have also not had time to to as many nail art tutorials as I would have wanted to. AND I haven't practised my one stroke nail art as much as I was hoping I would. I did come up with a very original nail art idea using hole punch which I am quite proud of (find it here). My overall favourite nail art look from the year is the rose nail art I did back in July.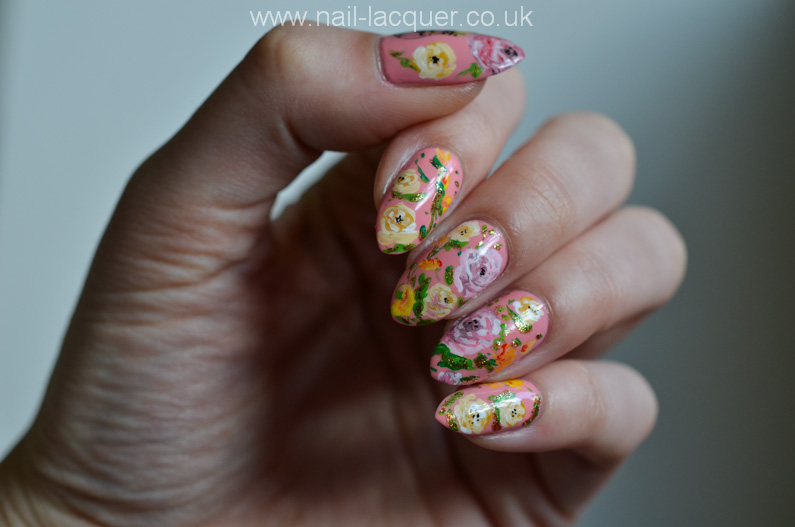 My least favourite nail art look from the past year is the fish scale nails I did back in February. They were crap and the tutorial was crap too.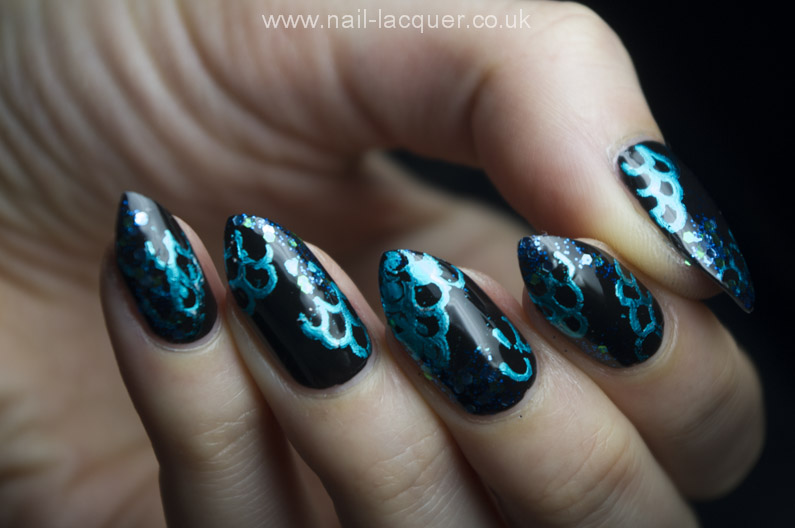 Due to my collection growing more than shrinking I have added another polish rack on my table, this one is rack number three and is already full of polishes! I just realised I haven't shared pictures of my nail station on my blog but you can see the very first rack from May 2013 here. And here's how it looks today: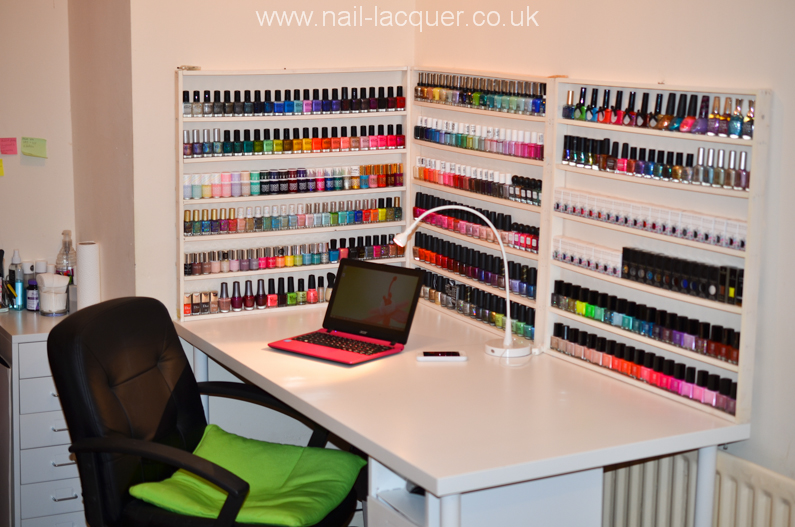 Shame that the racks are not able to hold my whole collection. Maybe by the end of next year they will (they wont) but that's what I like to tell people.
The nails I wore for New Year's Eve were actually not celebratory and not wintry at all! After wearing dark winter apropriate colours for a while my inner pink lover rose and chose the brightest pink in my (gel) collection- Gelish Pacific Sunset. I am wearing three coats of Pacific Sunset on top of one coat of Gelish Arctic Freeze.
I added white cherry blossoms using Born Pretty Store stamping plate m6 (review here) and white Mundo de Unas stamping polish. I love how well Mundo de Unas polishes stamp but that smell… so.freaking.bad.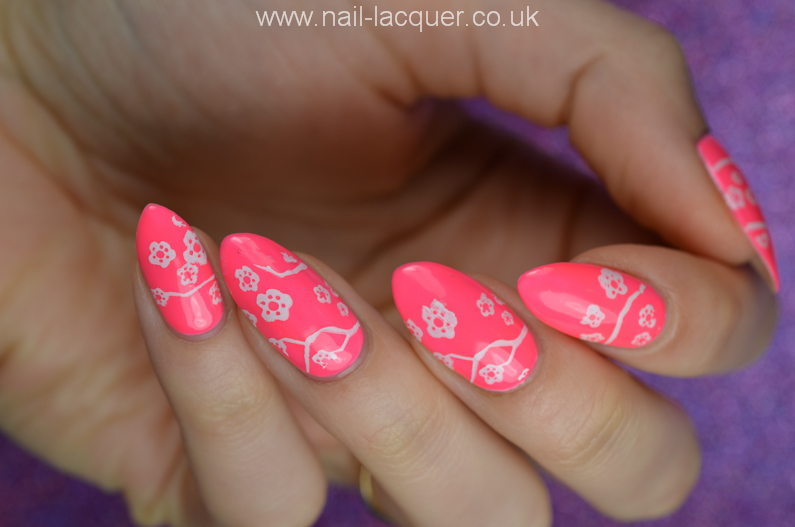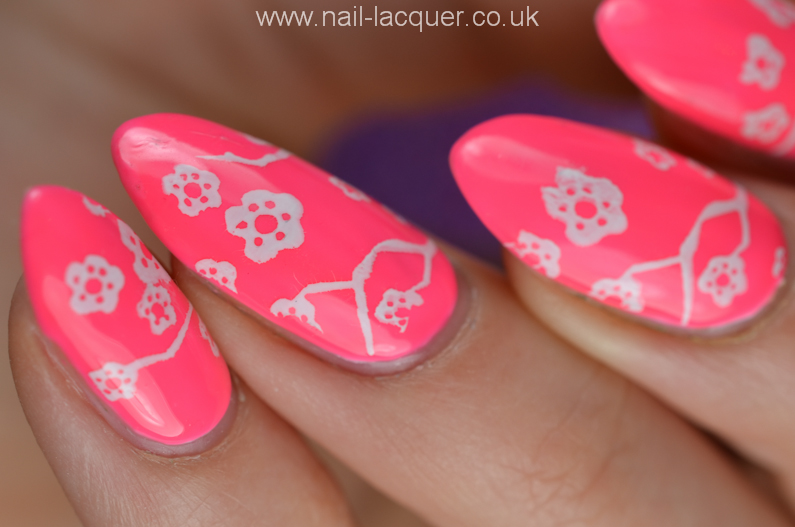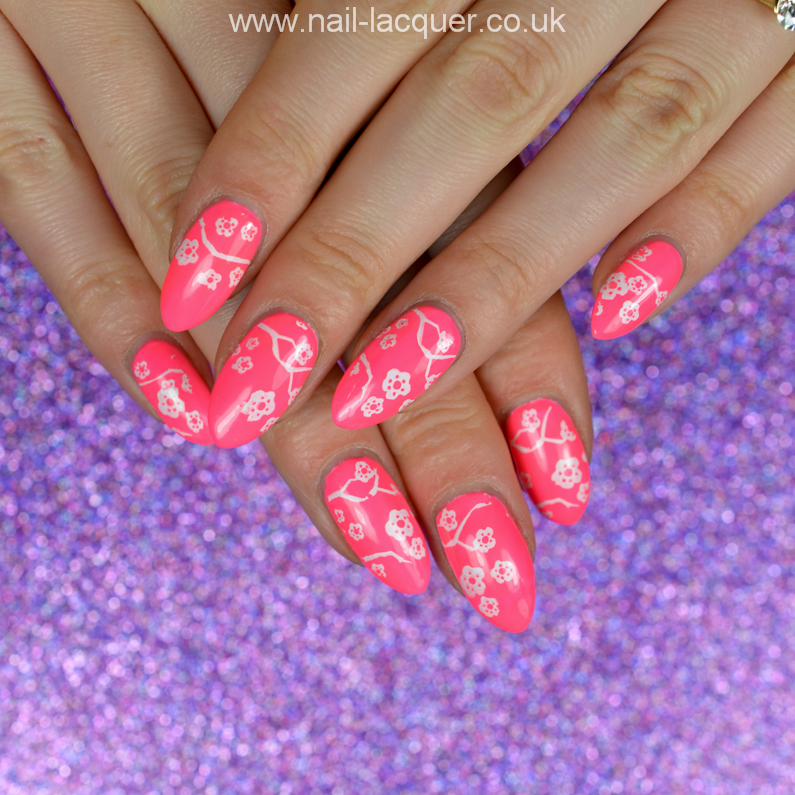 If you wonder how I celebrated the end of this amazing year then I can reveal you that I slept. Slept like a baby and cuddled a very frightened pooch who was convinced that the end of the world has arrived. Well I sure hope that the world is not ending any time soon because another fabulous year has just started and I am excited to see what it will bring to us!
Happy New Year everyone and thanks for reading! xxx