Constance Carroll Wizard is the oldest nail polish in my collection. I am showing you this polish continuing my vintage polish blog feature. Last week I showed you three beautiful holographic vintage Sally Hansen polishes (find them here).
Wizard is a polish from my teenage years. I am well past my teenage years now making the polish about 13 – 14 years old.
I found the polish in a vanity in my grandmothers house a year or so ago. As it had been sitting there for years, waiting for me to come back, it was mostly dried up. I restored it by adding a fair amount of Poshe Polish Reviver. To my surprise the polish reviver really worked wonders. This polish is now as usable as it was 14 years ago.
The only thing I would say about the polish reviver is that only get it when you plan to use it as it evaporates when left for a while. Mine was half used and is completely disappeared by now.
Wizard is a black polish full of small silver glitter.
On the swatches I am wearing two coats of polish with top coat. Application of this polish was okay, it probably would have looked better with three coats as there were a few lighter patches. The brush was nice size but the bristles were thicker than I am used to and a bit 'brushy'. It made the application more difficult.
The funny thing is, I remember this polish being in my collection but I don't recall actually wearing it. But the bottle being half full indicates that I must have been wearing it a fair bit.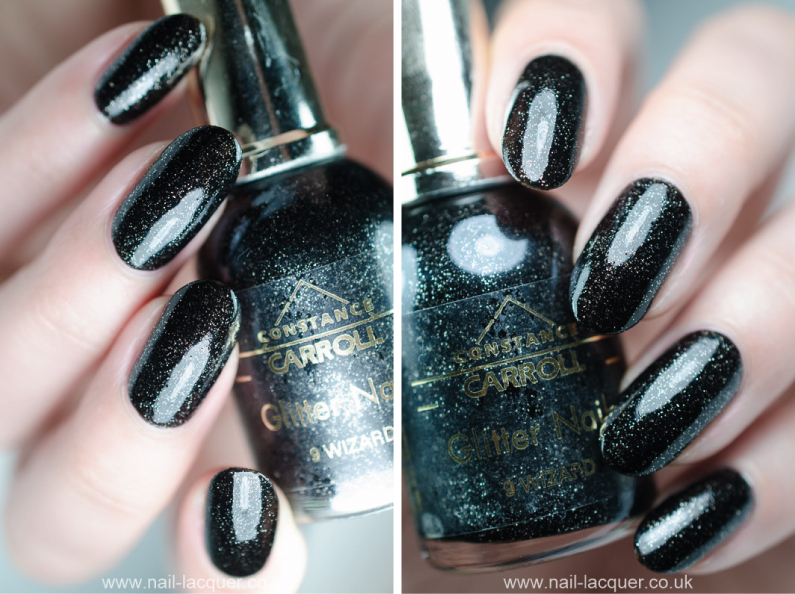 Now let's talk about the worst thing about this polish. The smell. It freaking stinks. Like I am not sure how I was able to polish two hands with two layers without getting an headache back in the day. I used in on five fingers today and almost gave up because the smell was so bad. It's like why would you want to put something that smells so bad on your nails??
Other than the smell the polish is pretty decent. It even dried fast. Which is good because it wasn't until 10 years later I found out about fast dry top coats and top coats overall lol.
Finish wise I think it really was ahead of it's time. I don't remember having many glitters back then. Black and silver combo is defo something closer to today than early 00's (at least where I am from, it was all red and pinks and shimmers).
Anyway, I did a little google and found that they still sell this polish. On eBay here. And it's just £2.19. I am curious if these polishes smell as bad as mine. I might order one just to see haha.
Thanks for reading!