Hello and happy Friday!!! I have some exciting polish sale news today- Models Own have finally reached 250 000 likes on Facebook and they are celebrating with a 50% sale. I obviously took advantage of the 50% sale and thanks to the fast postage I am already able to demonstrate my very first Models Own HyperGel swatches. Prepare yourselves- this is a picture heavy post!!!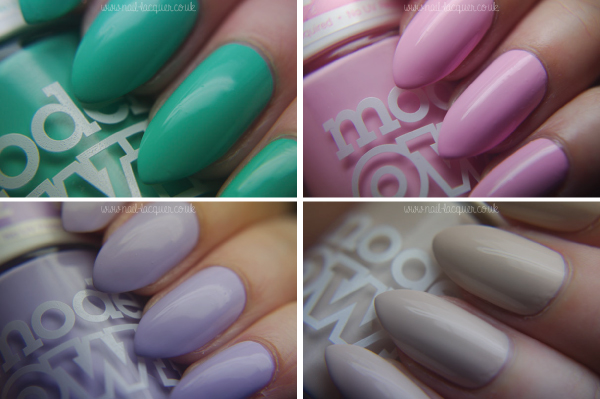 First off, the polish I was most excited about, Models Own Turquoise Gloss. It is a bright turquoise creme polish with gel-like finish. As the name HyperGel indicates, these polishes have a gel-like finish. To be completely honest, I don't care much about glossy finish because I tend to use top coat anyway. I am keen on new colours and that was the main reason I purchased the Models Own HyperGels.
This polish completely lived up to the expectations. It was rather easy to apply, almost opaque in one coat but I used two for perfection. The drying time wasn't the best- maybe about 10 minute wait before you can start using your hands again lol. The best part about this polish is the amazing colour. It's similar to Barry M Greenberry but greener. I made a comparison swatch with some other mainstream polishes such as the above mentioned Greenberry etc.
If you already own Greenberry you are not missing out much but if not I'd go for Turquoise Gloss as I think it was easier to apply and the green is slightly more vibrant. In addition, with the sale price (£2.50) it's cheaper.
Next up is Models Own Pink Veneer. Whereas usually pink is a winner for me, it is not the case today. Pink Veneer was almost opposite to apply compared to Turquoise Gloss. It took about three coats and some expert applying skills. In addition, with three coats, the polish took ages to dry and by ages I mean 15+ minutes (not cool). Colour was lovely however, but we all know that pink is my weakness :P That baby pink creme is just too cute!!!
Overall okay for £2.50 but would not recommend paying £5 for this polish. Here are some comparison swatches.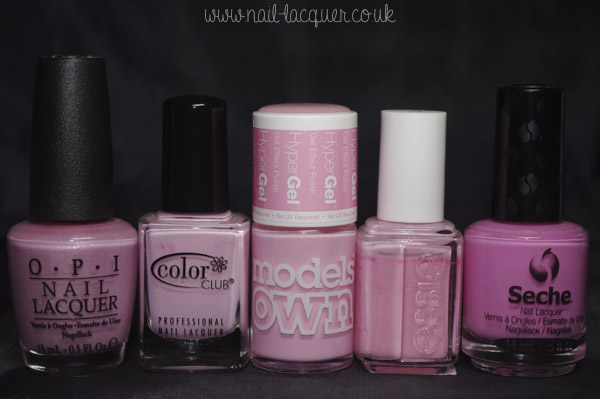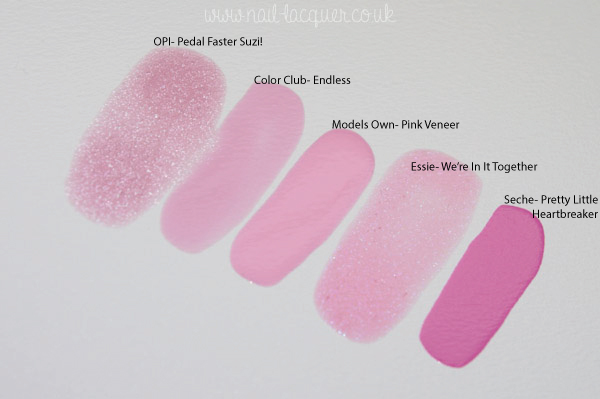 Third up is Models Own Lilac Sheen. Lilac Sheen had much better formula than Pink Veneer which I was happy about. Used two coats for a satisfactory finish. The colour was also lovely, not very unique but simple and beautiful in my opinion.
Drying time was also okay, about 5-10 minutes. I am a bit spoilt by all the fast-dry topcoats and I am not used to wait more than 5 minutes for a polish to dry these days :P Anyway, here are some comparison swatches again.
Lastly, there is Models Own Naked Glow. This was the second polish I was rather excited about :P LOVED that one- I think this colour is in this spring so Naked Glow is pretty much a must have. It was really easy to apply and I achieved perfect opaqueness with just 2 coats.
I think overall from all four I like this one the best. And as you'll see from the swatches below- I didn't have anything too similar to this polish!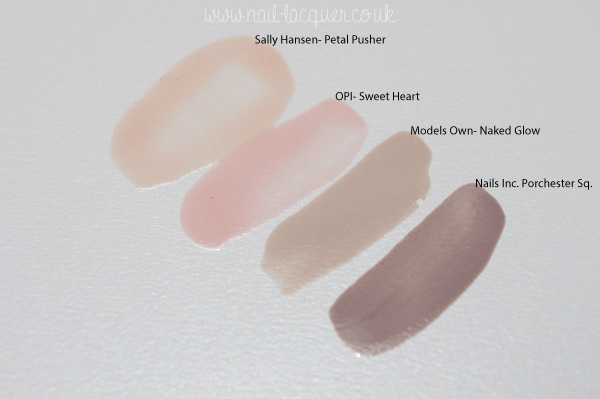 As a conclusion I'd say that one could skip buying Pink Veneer but all the rest are a green light, especially with the sale price.
Thanks for surviving my Models Own HyperGel swatches post, I better go and file my middle nail now as it seems to be much rounder than all the others lol. xoxox